This guest blog post comes to us courtesy of Tanya from LemonsForLulu.com. As Tanya likes to say, "When life gives you lemons, make dessert!" Today, Tanya's sharing her recipe for Apple Cinnamon Sugar Cookie Bars with us!
Sugar cookies in a thick and delicious bar!
Lots of apples and cinnamon make these bars the perfect fall treat!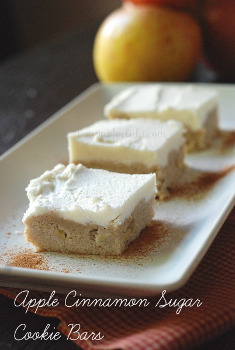 Each major holiday comes with a "to do" list. I'm not talking about shopping or decorating, but more of an itinerary of things we need to do as a family. When the start of school rolls around, I start planning our fall activities. The season will NOT be complete for me unless we find time to do all the fun things autumn has to offer. Since our kids have been babies, we've gone to the zoo, we've done hayrides, we've picked and carved pumpkins, we've done corn mazes and made all sorts of Halloween treats. These are the reason I absolutely love the fall. There is so much to do, the weather is cool and crisp and I love the autumn colors we find everywhere we look.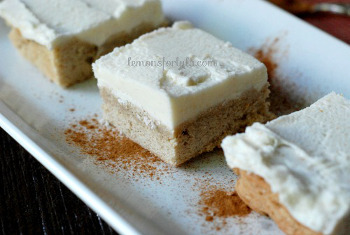 Our oldest is almost 10. She still enjoys most of our fall festivities. She's a good big sister and will enjoy them for the sake of my 4 year old for as long as possible. In the back of my mind, I am aware that our lives are changing. We do so much together as a family. All the activities listed above hold so many special family memories. I know it's only a matter of time before one of them asks to bring a friend, and then the whole dynamic of that outing will change. The next thing that will happen is one will ask to stay back with a friend and before we know it, we won't be going at all. I'm dreading that day.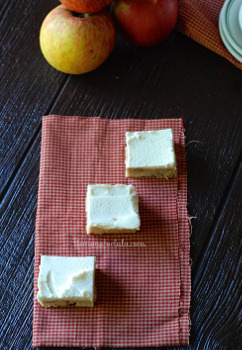 The one thing that we will always have is the flavors of fall. Each September our kitchen starts filling up with the spiced aromas that only the flavors of autumn can bring. Our senses are filled with the scent of apples, cinnamon, ginger, pumpkin, maple and nutmeg. Our kids love eating pumpkin cupcakes and chili, cinnamon bread and gingerbread cookies. And I'm confident they always will. I suppose no matter what each season brings, we always have food to bring us together.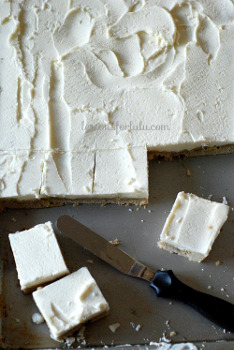 These apple cinnamon sugar cookie bars were the perfect recipe to get us in the mood for fall! Each bite is loaded with cinnamon and fresh chunks of apples. I frosted them with a simple browned butter frosting. The combination left us anxious for fall and the bounty it has to offer!
Apple Cinnamon Sugar Cookie Bars with
Browned Butter Frosting
For the sugar cookies:
1 cup butter softened
2 cups sugar
4 eggs
2 teaspoons vanilla
5 cups flour
1 teaspoon salt
½ teaspoon baking soda
2 cups diced, peeled apples
2 teaspoons cinnamon
For the frosting:
1 cup butter
1 16oz package powdered sugar
½ cup milk
1 teaspoon vanilla
Preheat oven to 350. Grease a 13×8 baking sheet and set aside.
In a mixer, combine butter and sugar and mix on medium until creamy. Mix in eggs one at a time, making sure to mix well after each addition. Mix in vanilla. Scrape the sides of the bowl as needed. In a small bowl, combine flour, salt and baking soda. Blend in flour mixture on low until completely incorporated. Stir in cinnamon and apples.
Spread bars onto prepared sheet. Bake for 15-20 minutes or until a tooth pick inserted in the center comes out clean. Let cool completely before frosting.
For the frosting, cook butter in a small saucepan over medium heat stirring constantly for about 8-10 minutes or until butter starts to turn a golden brown color. Remove from heat and pour until a bowl. Cover and refrigerate butter for an hour or until it begins to solidify.
In a mixer, beat butter until smooth. Carefully add powdered sugar alternately with the milk beginning and ending with the powdered sugar. When frosting is a spreadable consistency, stir in vanilla. Spread frosting over cooled sugar cookie bars.

Do you have any questions, comments, or compliments about this recipe? Leave them for Tanya in the comments section below!
Latest posts by TheBestDessertRecipes
(see all)