Recently, bubble-up casseroles have been "popping" up all over the place. They're popular because they combine great taste with convenience. This Bubble-Up Alfredo Bake is another one of the delicious developments from the AllFreeCasseroleRecipes Test Kitchen. The options are endless with this Italian casserole recipe. It's made with refrigerated biscuits, broccoli, and Alfredo sauce. On its own, this bubble-up bake would make a hearty side to any weeknight meal. You can also choose an add-in, such as chicken, pasta, or another veggie, to make this a complete meal.
We all know that it wouldn't be right to eat Italian food without breadsticks, so that's why this recipe has breadsticks built in! No assembly required. (Okay, maybe a little assembly is required…but not much!) Seriously, the preparation for this dish is so minimal that you can come home from work and throw this together and not even break a sweat. You also get to relax while it's baking, which is always a plus. While it's baking, it smells heavenly, too. Some would even say it smells like pizza, which is bizarre, but so true.
All of the Italian flavors are here and even though it's not the most pretty dish you'll ever make, it gets the job done. It has just the right amount of creaminess from the Alfredo sauce. Tender broccoli in this cheesy, creamy sauce is downright awesome. The little touches of spices help give this more flavor while the biscuits take this to a whole new level with the tender breadiness of it all. Your personalized add-ins will make this perfect for what you're craving.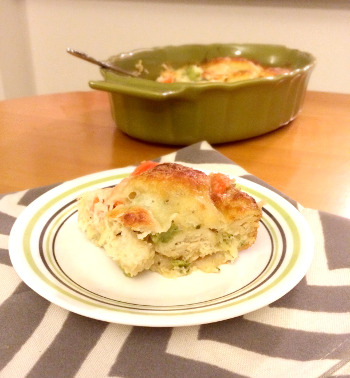 Bubble-Up Alfredo Bake
Ingredients:
1/2 pound frozen broccoli florets
2 teaspoons water
1 can flaky layers refrigerated biscuits
1/2 (15-ounce) jar roasted garlic Alfredo sauce
1 teaspoon garlic salt
1 teaspoon oregano
1 teaspoon cayenne pepper
2 cups Italian blend shredded cheese, divided
Non-stick cooking spray
Suggested add-ins:
1/2 pound frozen crinkle-cut carrots
1/2 pound cooked chicken, cubed
1/2 pound cooked angel hair pasta
Directions:
1) Preheat oven to 350 degrees F. Thaw frozen broccoli by microwaving for about two minutes with two teaspoons of water. Cut each biscuit into quarters.
2) Combine biscuit pieces, broccoli, any add-ins, Alfredo sauce, garlic salt, oregano, cayenne pepper, and 1 cup of cheese. Mix gently so that biscuits don't come apart.
3) Spray a 2-quart baking dish with non-stick cooking spray and place contents of mixing bowl into baking dish. Top with remaining cheese.
4) Bake for 35 to 40 minutes.
If you like this recipe, you'll love our other bubble-up casseroles.
What other add-ins would you use in this bubble-up casserole?
Latest posts by AllFreeCasseroleRecipes
(see all)