Fried apples is one of those traditionally Southern foods that might mystify those who live north of the Mason-Dixon line, but we here FaveSouthernRecipes are here to bring this sweet and easy dish to the masses.
Despite the name, no frying is actually required to make this Southern staple. The traditional recipe for fried apples merely consists of sauteing apples in a rich combination of butter, brown sugar, and cinnamon. Southern fried apples are a sweet treat that are often served as a side dish with a large, savory meal, but they also double as dessert. I'm not sure it gets much better than a dessert that I can eat during dinner, so I got in the test kitchen and got cooking to make my own rendition of this comforting classic: Fast-Fix Fried Apples.
One of my favorite things about this recipe is how simple it is. Plus, it uses pantry ingredients that I'm always likely to have in my kitchen. I love making a big batch of these apples to keep on hand to use as a topping for pancakes, oatmeal, and ice cream all week long. With this recipe for Fast-Fix Fried Apples, dessert is never more than thirty minutes away!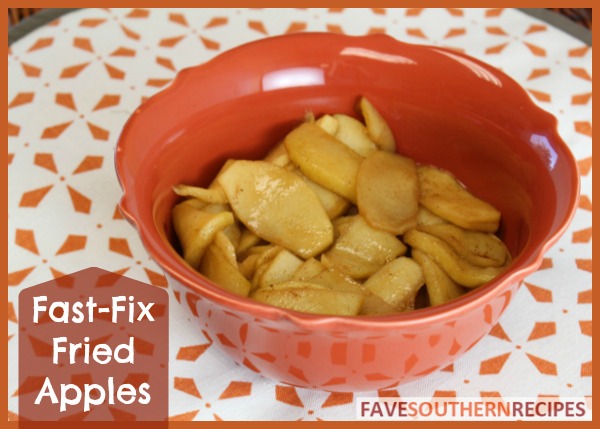 What You Need:
3 Granny Smith apples, peeled, cored, and cut into 1/8-inch slices
4 tablespoon unsalted butter
3/8 cup light brown sugar
1 teaspoon ground cinnamon
1/8 teaspoon ground nutmeg
1/8 teaspoon salt
juice of half a lemon
How-To:
Preheat 10-inch skillet over medium heat. Add butter.
Once the butter is melted, add brown sugar, cinnamon, nutmeg, and salt. Stir to combine.
Cook butter and brown sugar mixture until syrupy, about 2 minutes. Add in sliced apples; stir to combine until all the apple slices are coated in the butter and brown sugar mixture.
Cover the apples and let cook over medium heat for 15 to 20 minutes, stirring occasionally. The apples should be soft and tender but not mushy.
In the last minute of cooking, stir in the juice of half a lemon.
What is your favorite quick and easy recipe?
Latest posts by FaveSouthernRecipes
(see all)