Print This Post
Hand pies are definitely the latest and greatest thing in the foodie universe, and it's not hard to understand why. They fit in the palm of your hand, you can fill them with fruit, meat, or basically anything you want, and they're so much more attractive than your typical 9-inch pie. It seems that hand pies are everywhere I turn these days, so this morning I took to the test kitchen to bake up a batch of my own.
I'm not going to lie, I'm pretty proud of how these little hand pies turned out. The filling didn't leak everywhere, the sugar I sprinkled on top didn't burn, and they look pretty darn cute. I would definitely say that this recipe for Precious Cherry Hand Pies was a success, and it got the test kitchen stamp of approval. Our editors flocked to the kitchen when they were done and ate them up in no time at all.
Not only are these hand pies ridiculously precious, they are also seriously simple to make. The pie filling is made from scratch, but it comes together in less than 20 minutes. I even made the pie filling the night before so all I had to do today was cut out the dough and put the pies together. If you're feeling fancy, you can make the pie dough from scratch, but don't be afraid to use refrigerated pie crust if the thought of homemade pastry dough makes you nervous.

Ingredients
2 (12-ounce) bags of sweet frozen cherries, thawed (about 3 cups)

3/4 cup granulated sugar

1/4 cup corn starch

juice of one lemon

2 packages refrigerated pie crust (4 sheets of pie crust total)

1 egg

3 tablespoons water, divided

turbinado sugar (optional)
How-To:



Begin by making the filling. Cook the cherries in a saucepan over medium heat for about 5 minutes, or until the cherries begin to release their juice. Meanwhile, thoroughly combine the granulated sugar and corn starch. Remove the cherries from the heat and stir in the sugar and corn starch mixture.
Bring the cherries to a simmer and then reduce heat to medium. Cook, stirring occasionally, for 3 to 5 minutes, or until thickened. Remove the cherries from the heat and stir in the juice of one lemon. The filling will continue to thicken as it cools. Cool completely before using.
Preheat the oven to 400 degrees F. Line two baking sheets with parchment paper or a silicone baking mat.
Allow the pie crusts to come to room temperature for 15 minutes before using. Using a 3-inch round biscuit cutter, cut out rounds from the pie crust. Each crust should yield about 8 rounds, with scraps leftover. Place two tablespoons of water in a small bowl near your work surface.
Fill half of the rounds with a teaspoon of the cherry pie filling. Resist the urge to overfill the pies. Trace the edge of the round with a little bit of water before covering with another round. Press the edges together to seal, removing the air while keeping the pie filling in the middle of the crust. Use a fork to crimp the edges of the hand pies. If the edge of the pie is jagged, use the biscuit cutter to clean it up.
Continue to use this method to make 16 hand pies. Place 8 hand pies on each baking sheet.
Combine the egg with one tablespoon of water to make an egg wash. Using a pastry brush, brush a little egg wash on each of the pies. If desired, sprinkle the hand pies with turbinado sugar. You may also use a paring knife to cut vents in each pie, though this is not necessary.
Bake the pies one baking sheet at a time for about 16 minutes, or until golden brown, rotating the baking sheet halfway through baking. Cool for five minutes before serving.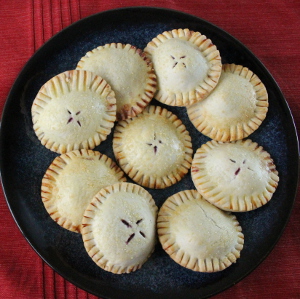 Which do you prefer: sweet hand pies or savory hand pies?
FaveSouthernRecipes is dedicated to the best easy Southern recipes and cooking tips. From quick and easy dinner recipes to new and exciting dessert recipes, we find and deliver the best Southern recipes from all over the web. Plus, we feature free product reviews and giveaways of all the latest and greatest products including cooking gadgets, cookbooks, food, and more. FaveSouthernRecipes is a wonderful online resource for cooks of all skill levels.
Latest posts by FaveSouthernRecipes (see all)
Print This Post