This guest blog post comes to us from Judy Hannemann. She is a retired engineer and author of the blog, The Midnight Baker.
Cheesy Cheesy Chilidog Casserole:  A pleasant surprise for all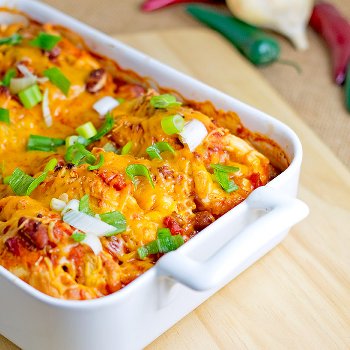 Let me begin by saying I'm not a fan of chili or much of anything it appears in.
I was, however, called upon to create a dish with chili and hot dogs by some fans I acquired on a large Facebook recipe fan page.  Since I must eat most of what I develop, needless to say, I was slightly hesitant to do this!
Any recipe for chili will do here, even a meatless one because hot dogs will be added.  If you choose to use a canned chili, about 2 to 3 cans will be sufficient.  My recipe below may be doubled if you like loads of chili in the casserole.
This chili tasted wonderful.  The great taste of this chili convinced me to do my very best with this dish.  I used better-quality hot dogs in it for more flavor and of course, decided to pack this with cheese.  I even stuffed the hot dogs with cheese.
I might add at this point that the biscuits that I wrapped the hot dogs in were a little wet on the bottom from sitting on top of the saucy chili, but I didn't find this a problem.  If you like it to be less wet, flour or corn tortillas can be easily substituted for the biscuits.
The final product was delicious.  I ate two servings which surprised me immensely.  I don't think I'll be saying "No" to this combination in the future, and this casserole is definitely on my "make again" list.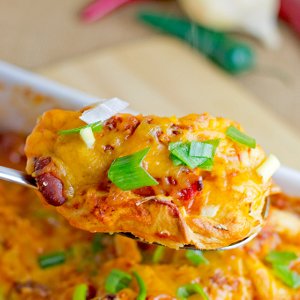 Cheesy Cheesy Chilidog Casserole
Quickie Chili:
1/2 lb lean ground beef, browned and drained
1/2 cup chopped onion
1 can (10 oz) tomatoes with green chiles (like Rotel)
1 can (8 oz) tomato sauce
1 can (15 oz) kidney beans, drained and rinsed
1 thai chile pepper (or hot pepper of your choice)
1 tsp chili powder
2 tsp sugar
1 tsp salt
For the casserole:
2 packages extra-large refrigerated biscuits (like Grands)
1 lb hot dogs
2 cups shredded sharp Cheddar cheese
1/4 cup chopped onion
16 1/4-inch pieces of sharp cheddar cheese*
2 green onions (scallions) chopped for garnish
Place all chili ingredients in a 7-cup rice cooker and cook until unit switches to "warm."  For stovetop, add all chili ingredients to a large saucepan, bring to a boil, reduce heat and simmer until juice is reduced by about 50 percent.
To assemble the casserole:  Cut slices of cheddar cheese off a block of cheddar.  Cut hot dogs in half crosswise (you will have 2 hot dog pieces, so you have 2 WHOLE sections of franks).  Make a slit on the top of each hot dog half and insert the cheese slices.  Set aside.
Open biscuit rolls.  Flatten each biscuit slightly.  Place a cheese-stuffed hot dog portion in each biscuit and about a teaspoon of chopped onion.  Bring ends of biscuit up around hot dog and seal.  Set aside.
Preheat oven to 350 degrees F.  Spray or grease a 13 x 9 -inch baking dish.
Place chili in baking pan.  Top with biscuit-wrapped hot dogs, covering the top of the casserole. Sprinkle with one half of the shredded cheddar cheese.
Bake at 350 degrees F for 30 minutes, or until biscuits are brown and crusty on top.  Add remaining half of the shredded cheese.  Bake for an additional 5-10 minutes.  Garnish with chopped green onion.
*I used Kraft Cracker Barrel Sharp and cut each square slice in half.
Have you ever discovered a dish that contains an ingredient you disliked was actually quite good?
Latest posts by AllFreeCasseroleRecipes
(see all)