This wonderful guest post comes to us from Amy Atherton from Foods for The Soul. She believes in making healthy foods taste just as good, if not better, than similar unhealthy foods. Today, she's sharing her delicious Cherry Crumble Bars with us!
I mentioned early in July that my grandma baked the best peach pie, but it turns out my other grandma is pretty good with pies too! If I stared at a Marie Callendar's commercial or even whispered that it sounded good, Grandma would mix up her specialty, apple pie, the same day. Just for me. Sometimes she used two crusts, sometimes a lattice top, sometimes nothing at all, but the filling was always my favorite. Apples and cinnamon make me swoon!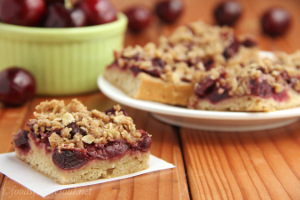 During middle school, we invited Grandma over for one of our weekly summer BBQs. She insisted on bringing something, and since Mom had already bought baked beans, hamburger meat, and fresh corn, we told Grandma to bring dessert. Which could only mean one thing…
A few hours before dinner, Grandma began feeling funny. She called Dad, telling him she couldn't come because of a cold, but would he please drive over and pick up the dessert she made so her granddaughter wouldn't have to go without?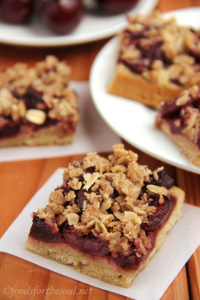 Grandma was unfortunately forced to stay at home so her germs wouldn't spread. While waiting for her pie to come, I chased my dog around the backyard, too excited to sit still. When Daddy pulled into the garage, I raced over to lift the red checkered cloth off of the wicker basket and peek at the pie underneath.
Cherry.
Too sick to go to the store for apples, Grandma had dug up a frozen pie crust, dumped in a jar of cherry filling (but no sugar or spices!), and popped it in the oven for an hour. Still, I cut a slice after I finished my burger and tried a bite. I then set down my fork, gave Grandma a polite "thank you" on the phone, and served myself a big bowl of ice cream instead. (My parents and brother did the same… It was just so bland!)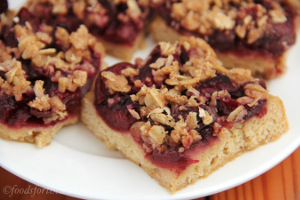 And that has been my one and only cherry pie experience. A little too scarring, it prevented me from ever ordering a piece at restaurants, trying a slice at friends' summer potlucks, or even baking my own. (My other excuse is that I don't own a cherry pitter.)
But last week, I found myself with a few too many cherries in my fridge, and I decided to take a baby step. Still scared of making a pie, I chose a cherry crumble. With a cookie crust. Because, well, that's sort of similar, right?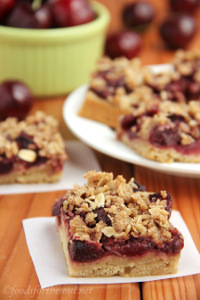 Friends, I don't know that I'll ever bake a cherry pie… These cherry crumble bars are just that good! The cherries pair perfectly with a splash of almond extract, the buttery crumble topping melts in your mouth, and the soft cookie crust ties it all together. It's impossible to stop after just one bar—trust me, I tried three different times!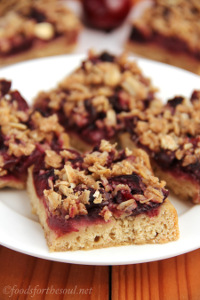 Cherry Crumble Bars
makes 16
The almond and cherry flavors really shine in this light and easy dessert!
for the filling
2 c cherries, pitted and quartered (measure after slicing!)
1 tsp granulated sugar
1 tsp cornstarch
½ tsp almond extract
for the crust
1 c all-purpose flour
¼ tsp baking powder
1/8 tsp salt
1 tbsp butter or margarine, melted and cooled
¼ c unsweetened applesauce
½ c brown sugar
¼ tsp almond extract
for the topping
¼ c old-fashioned oats
2 tbsp all-purpose flour
2 tbsp brown sugar
¼ tsp cinnamon
1 tbsp butter or margarine, chilled
1. Preheat the oven to 350°, and lightly coat an 8"-square baking pan with nonstick cooking spray.
2. To prepare the filling, combine the cherries, sugar, cornstarch, and almond extract in a large bowl, stirring well to evenly coat the cherries with the other ingredients. Set aside.
3. To prepare the crust, whisk together the flour, baking powder, and salt in a medium bowl. In a separate bowl stir together the butter and applesauce. Mix in the brown sugar and almond extract. Pour in the flour mixture, mixing just until incorporated. Press into the bottom of the prepared pan. Evenly spread the cherry filling on top of the crust.
4. To prepare the topping, combine the oats, flour, brown sugar, and cinnamon in a small bowl. Cut in the butter using the back of a fork or two knives until the mixture resembles coarse crumbs. Sprinkle evenly over the top of the cherry filling. Bake at 350° for 33-36 minutes, or until the cherry filling is hot and the crust appears baked through. Set on a wire rack to cool to room temperature, and let the bars sit at room temperature for at least 1-2 hours before slicing into squares.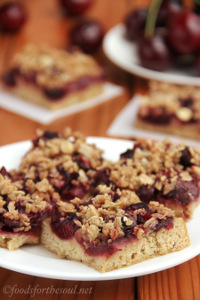 Feel free to leave questions or comments about these tasty Cherry Crumble Bars for Amy in the comments below!
Latest posts by TheBestDessertRecipes
(see all)