Chicken Alfredo recipes have been popular this winter, probably because they're everything that everyone wants right now: warm, comfort food that's just a little bad for you. Despite New Year's resolutions to eat right and go to the gym more, sometimes cold weather requires stick-to-the-ribs casseroles like this new recipe straight from the AllFreeCasseroleRecipes Test Kitchen.
If you're anything like us, you're going to love this Chicken Alfredo Crescent Casserole. With just six ingredients, you're going to create a masterpiece that's almost too beautiful to eat. Almost, but not quite. The heavenly smell will definitely make your taste buds overrule any other emotions. Chicken, broccoli, Alfredo sauce, and cheese, encased in a buttery crescent roll crust? What's not to love?
Chicken Alfredo Crescent Casserole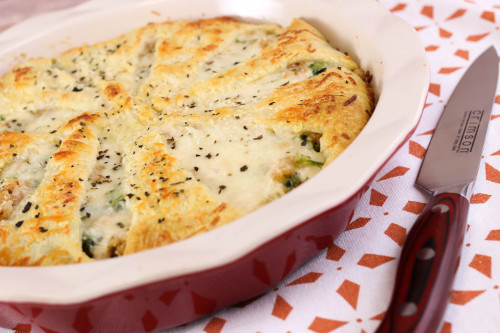 Ingredients:
3 cups cooked chicken, diced
1 cup cooked broccoli florets, chopped
1 (15-ounce) jar garlic Alfredo sauce
1 (8-ounce) can crescent rolls
1 1/2 cup Italian blend shredded cheese
1/2 teaspoon dried basil
Directions:
Preheat oven to 375 degrees F and spray a 9-inch pie plate with nonstick cooking spray.
In a large mixing bowl, gently mix chicken, broccoli, and between 1/2 jar to 3/4 jar of Alfredo sauce together. Set aside.
Place triangles of crescent roll dough in dish about an inch apart from each other. Larger ends of triangles should be in the middle of the dish while the narrow tips should be hanging off the side of the dish by several inches. Spread each piece in the bottom of the pan until you are able to seal edges together and create a crust.
Sprinkle one cup of cheese onto dough. Spoon broccoli chicken mixture evenly onto crust. Spread a thin layer (about 3 tablespoons) of Alfredo sauce on top.
Gently pull tips of dough over the mixture until the tips touch in the middle. Sides of the tips should not touch one another. You should see the mixture peeking through the spaces between dough tips.
Top with remaining cheese and sprinkle with basil.
Bake, uncovered, for about 20 minutes or until golden brown.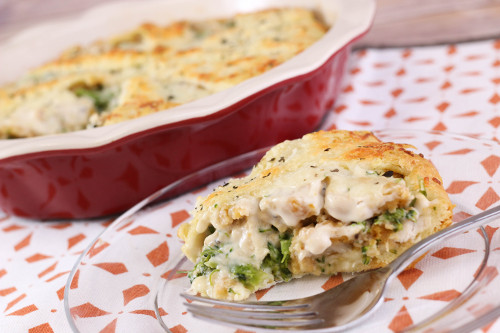 If you like this recipe, you'll love our Italian Crescent Casserole, made with ground beef!
What food have you been craving all winter?
Latest posts by AllFreeCasseroleRecipes
(see all)