This guest blog post comes to us today from Kim Cooper, author of the Feed Me Seymour blog!
PEEPS are a pretty traditional treat. Typically, they can be seen at Easter time, taking over store shelves in a violent shock of bright colors. Chicks and bunnies arrive en masse and appear in every Easter basket. But PEEPS these days aren't just for Easter. And they have taken tradition and shot it with a hit of modernity. Now, PEEPS can be found for just about every holiday and come in a wild variety of flavors, from vanilla to strawberry and beyond. For Valentine's Day, they are offering strawberry creme chocolate dipped chicks, classic marshmallow hearts and – a personal favorite – Chocolate Mousse Flavored Marshmallow Bears.
It only makes sense that when someone gives you lots of flavor options, you have to make unique treats. Sure, popping the cello wrapper of a PEEP and letting it get just a little bit stale before shoving it, one bite, into your mouth is still a much-loved past time. But now, creativity is splitting the marshmallow treat market wide open and allowing for tons of different options.
One such option are the Chocolate Peanut Butter PEEPS Treats. Think along the lines of a Rice Krispie treat, but with the volume pumped way up. Chocolate peanut butter cereal is mixed with chocolate mousse teddy bear PEEPS and then chilled. Resist the urge to cuddle said chocolate mousse teddy bear PEEPS, they are quite adorable. The chocolate mousse flavor of the marshmallows gives the treats an extra chocolate kick while the peanut butter balances it out, cutting through the sweetness a bit. Chocolate and peanut butter are really just meant to be together. And since we are celebrating Valentine's Day with PEEPS, it made sense to take two ingredients that were meant to be together and combine them into a tasty, satisfying treat.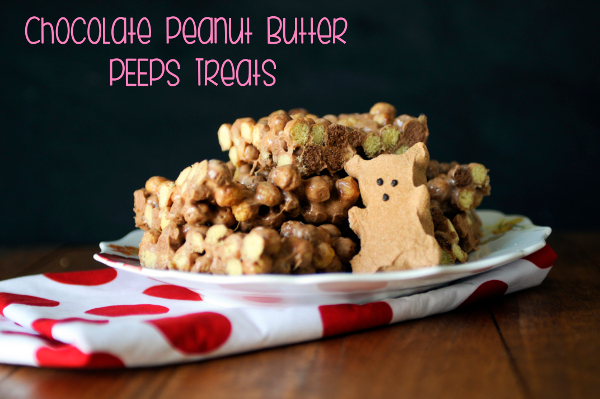 Chocolate Peanut Butter PEEPS Treats
12 PEEPS Chocolate Mousse Flavored Marshmallow Bears
3 Tbsp. butter
2 cups chocolate peanut butter cereal
Spray an 8″ baking dish with non-stick spray.
Melt butter in a large sauce pan over medium heat. Add in teddy bears and stir until fully melted.
Stir in chocolate peanut butter cereal and mix until thoroughly combined.
Place the cereal into the baking dish and smooth until the dish is full. Set aside until fully set, about an hour.
Use a sharp knife to slice into squares.
Makes 10 small squares

When it comes to Valentine's day, what is your favorite classic pairing? Are you a peanut butter and jelly fan? Or do you go together like peas and carrots?

Kim Cooper is the creative mind behind the blog Feed Me, Seymour. She loves creating new recipes and eating anything covered in chocolate. You can find out more about Kim Cooper on her Featured Foodie profile!

Latest posts by TheBestDessertRecipes
(see all)