This guest blog post comes to us from Olivia Smith, author of the blog, Cooking with Libby.
Christmas is almost here! It's the season for making tried and true desserts with family and friends, as well as figuring out what's on your loved ones' Christmas lists. I love receiving homemade gifts during the holidays, specifically ones in glass jars. There is just something about cute little treats placed in festive mason jars that make me smile every year.
This year, I wanted to do some experimenting with basic sugar cookie dough.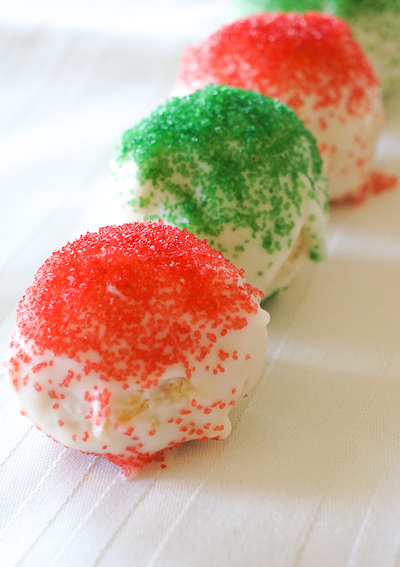 These cookies taste perfect as is, however, I decided to put my own twist on it, turning them into sugar cookie balls. This concept resembles cake truffles, except I used cookies. I baked them and then formed them into cute little balls to be placed in glass jars. I finished them off with a festive bow to give to our neighbors.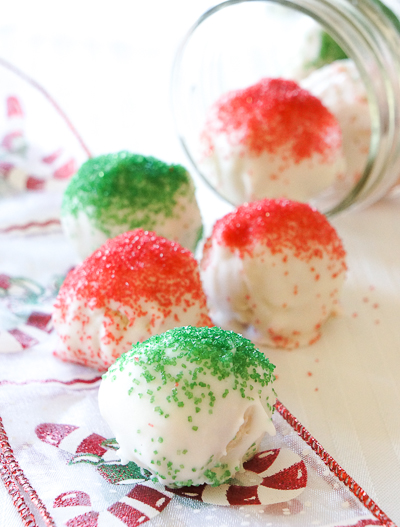 I think they are so adorable. They're perfect to make for your loved ones this holiday season!
Christmas Sugar Cookie Balls
Prep Time: 1 hour
Yields: 1 to 2 dozen balls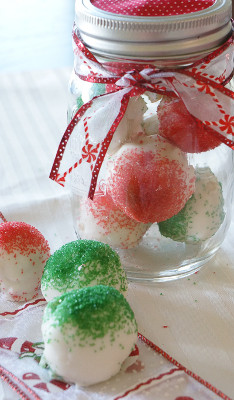 Ingredients:
1 package of refrigerated sugar cookie dough
3 to 4 tablespoons of ready-made vanilla frosting
Half of a block of white chocolate candy bark
¼ cup of colored red and green sugar sprinkles, each
Directions:
Make sugar cookies as per instructions on the package.
Blend cookies in a food processor until they make a crumb mixture.
In a small bowl, mix together the crumb mixture and the vanilla frosting. Roll into quarter sized balls and place back on cookie sheet.
In the microwave on high heat for 30 second intervals, melt the white chocolate candy bark, stirring between each interval until completely melted.
With a spoon, dip each ball into the melted chocolate, making sure that it is completely coated. Place the chocolate balls onto the cookie sheet and sprinkle with sugar sprinkles.
Place balls in the fridge until the chocolate has hardened.
Fill glass jars with the balls and embellish with holiday ribbon if desired.
What is your family's favorite Christmas cookie?
Latest posts by RecipeLion
(see all)