Print This Post
BONUS Content just added!!
Just updated with even more Starbucks recipes!
I am a coffee shop kind of girl. Some mornings, I just can't resist heading over to Starbucks  for either a cup of strong coffee or a fluffy, frilly drink. I've noticed that these little trips tend to take a bit of a toll on my wallet, so that's why I'm always looking for sensational recipes on AllFreeCopycatRecipes.com that will give me the Starbucks taste without the Starbucks prices. This latest addition comes from Featured Foodie Tara Noland. Copycat Starbucks Vanilla Bean Frappuccino is a smooth and delicious concoction. It's made with ice cream, which makes it a sinfully creamy treat. Start of the morning off in sensational style without the Starbucks prices.
Copycat Starbucks Vanilla Bean Frappuccino Recipe:
Ingredients
10 Ice cubes
6 Ounces skim milk
3 Ounces fat free French vanilla Coffee-Mate, liquid creamer
Seeds from 1/2 vanilla bean
Splash of vanilla extract
2 Scoops of vanilla ice cream
Instructions:
Add all the ingredients into a blender and blend until the ice is crushed. Makes two drinks.
That's it! Could you ask for an easier recipe? I don't think so. Enjoy this sweet sensation the next time you're thinking about running out to get your favorite drink from the Starbucks menu. Special thanks to Tara for the recipe. You can check out more of her fabulous fare on AllFreeCopycatRecipes.com and on her blog, Noshing With the Nolands.
BONUS copycat Starbucks recipes!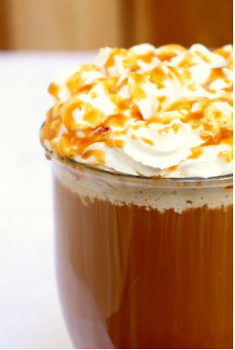 Favorite Fall Starbucks Copycat Recipes
4 Copycat Starbucks Drink Recipes
What's your favorite drink on the Starbucks menu?
AllFreeCopycatRecipes is dedicated to the best recipes and cooking tips. From quick and easy dinner recipes to new and exciting dessert recipes, we find and deliver the best recipes from all over the web. Plus, we feature free product reviews and giveaways of all the latest and greatest products including cooking gadgets, cookbooks, food, and more. AllFreeCopycatRecipes is a wonderful online resource for cooks of all skill levels.
Latest posts by AllFreeCopycatRecipes (see all)
Print This Post