This blog post comes to us from AllFreeCasseroleRecipes' Featured Foodie Carole, author of the blog Toot Sweet 4 Two.
A few questions for you:
Have you ever come home after a busy day, just too tired to spend time in the kitchen getting a meal together for your family?
Do you come home and have to turnaround and be out the door quickly to take your child to practice and then come home too late to start a meal from scratch?
Or, you just had one of those days and crave a hardy, warm, comforting meal full of cheesy goodness?
If you answered "yes" to one or more of these questions, then this is the recipe for you! Creamy Ravioli and Meatball Casserole fills all of those requirements. With a few pre-made ingredients on-hand, this casserole comes together in minutes and then bakes in the oven while you prepare a side salad to round out the meal, set the table and watch the news! And, because it is so rich and creamy, you'll have leftovers to pack for lunches or for dinner on another night when you just don't have enough hours in the day.
Even though it is fast and easy, this recipe does require that you have a few ingredients on hand. Frozen meatballs and fresh ravioli from the deli section of your grocery store are the key ingredients, plus a sauce made from cream of chicken soup and a jar of Alfredo sauce and a few spices. Topped with pre-shredded mozzarella cheese, this casserole takes no time at all to prepare.
To make it even more decadent, add a couple of cans of sliced mushrooms and sprinkle the finished casserole with fresh basil. So easy, cheesy and delicious, Creamy Ravioli and Meatball Casserole is sure to become a family favorite for busy nights.

Creamy Ravioli and Meatball Casserole
Ingredients:
1 tablespoon canola oil or non-stick cooking spray
1 (15-ounce) jar Alfredo sauce
1 (10 3/4-ounce) can cream of chicken soup
1 tablespoon dried minced garlic
1 tablespoon favorite Italian seasoning blend
1 (18-ounce) package (or larger) of deli fresh pre-made cheese ravioli
12 ounces of frozen turkey meatballs (about 12 meatballs)
2 (4-ounce) cans sliced mushrooms, drained (optional)
3 cups shredded mozzarella cheese
Fresh basil leaves for garnish
Directions:
Preheat oven to 325 degrees F.
Spray a 9″ x 13″ casserole dish with non-stick cooking spray or rub with canola oil.
In a small mixing bowl, stir together the Alfredo sauce, cream of chicken soup, and spices with a spoon until well mixed to make the sauce.
Pour 1/3 of the sauce mixture into the prepared casserole dish and spread all over the bottom of the pan with the back of a spoon.
Layer 1/2 of the ravioli over the sauce mixture.
Sprinkle 1/3 of the mushrooms (optional) over the ravioli.
Cut all 12 frozen meatballs in half, and layer half (6 meatballs or 12 halves) over the mushrooms and ravioli.
Sprinkle 1 cup of mozzarella cheese over meatballs.
Repeat this layer one more time: 1/3 of the sauce, 1/2 of the ravioli, 1/3 of the mushrooms, the rest of the meatballs, 1 cup of cheese.
Final layers: remaining sauce, 1/3 mushrooms, last cup of cheese.
Bake for 35 to 40 minutes in preheated oven until casserole is heated through and bubbly.
Remove from oven and let sit for 5 minutes before serving. Cut into 8 servings and transfer to dinner plates using a spatula.
Sprinkle with fresh torn basil leaves, if desired.
Serves 8. Add a fresh green salad to round our your meal.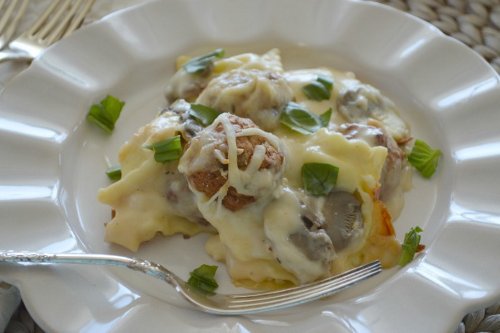 What's your go-to easy weeknight dinner?
Latest posts by AllFreeCasseroleRecipes
(see all)