This guest post comes from our Featured Foodie, Tess Gardner. People always say that fish is brain food, and this delicious recipe for Talapia is so good it's a no brainer. Made in the Xtrema Wok, this grilling recipe is super easy to prepare and perfect for spring. Be sure to enter our Xtrema Wok giveaway (ending 4/29/13) for your chance to win some great cookware. Enjoy!
Grilled Tilapia with Rice Cauliflower
By Tess Gardner
Maintaining a Paleo diet is important to my family's health and preparing meals in my new Xtrema wok makes this job a lot easier. The eco-friendly ceramic base holds heat, reducing the cooking time, and silicon pot holder prevents burns and unintentional accidents.  Yet the best part is I'm not limited to cooking only stir fries in it. The Xtrema wok can be used stove-top, in the oven, in the microwave or even on the grill.
So try a nonorganic approach to cooking and use your Xtrema wok to prepare this healthy and very tasty grilled tilapia with riced cauliflower recipe.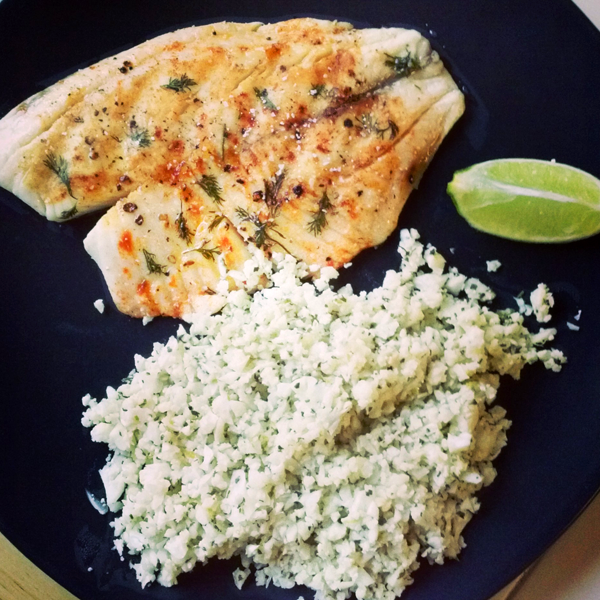 Ingredients
1.5 to 2 pounds of fresh tilapia
1 head cauliflower
1 lime, zest and juice
3 tablespoons fresh cilantro, minced
3 tablespoons organic unrefined coconut oil, divided
1 tablespoon chipotle chili powder
2 tablespoons fresh dill, chopped
Instructions
Preheat your outdoor grill.
Place tilapia fillets in a shallow baking dish and brush on 1 TBS of melted coconut oil. Sprinkle with chipotle chili powder and dill and set aside.
Remove core from cauliflower and chop into small florets.  Using a food processor, process florets until "rice-like"; set aside.
Place wok on grill for a few minutes to allow it to get hot. Add 1 TBS coconut oil to bottom. Place tilapia fillets in wok and cook 3-4 minutes on each side. Remove from wok and wrap in aluminum foil and set on grill to keep warm.
Add remaining coconut oil, riced cauliflower, lime juice and zest and minced cilantro to wok. Cover and cook for 3 minutes. Remove from heat and serve with tilapia. ENJOY!!!
Latest posts by RecipeLion
(see all)