Everyone knows John Wayne for his Westerns, but not as many people know that John Wayne was deeply invested in food. He loved anything that had some spice to it, especially Mexican food. In fact, he created what has come to be known as the John Wayne Casserole. This recipe was actually developed by the Duke himself for a celebrity cookbook back in the day. It featured simple, but flavorful, ingredients: green chilies and Monterey Jack cheese.
In this John Wayne Tater Tot Casserole from the AllFreeCasseroleRecipes Test Kitchen, you'll see influences of the original John Wayne Casserole that we all know and love, but with a brand new twist. Chili, tater tots, corn, tomatoes, green chilies, and a Cheddar Monterey Jack cheese blend combine for the ultimate Southwestern experience that John Wayne would've definitely approved of. The best part is that it's easily customizable. Throw in whatever you have on hand or swap ingredients for your family's favorites. It only takes six ingredients to make a meal that the whole family can enjoy during a busy weeknight!
John Wayne Tater Tot Casserole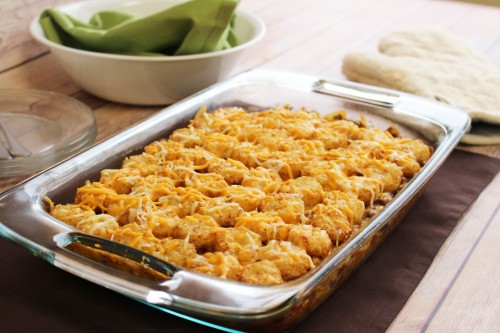 Ingredients:
2 cans chili (drain, if needed)
4 tablespoons sour cream
1 can whole kernel corn, drained
1 can diced tomatoes and chilies, drained
2 cups shredded Cheddar and Monterey Jack cheese blend, divided
1 (30-ounce) bag Ore-Ida Crispy Crowns
Directions:
Let tater tots defrost at room temperature for approximately one hour. When defrosted, preheat oven to 350 degrees F.
In a large bowl, combine chili with sour cream. Mix in corn and drained tomatoes and chilies. Gently fold in one cup cheese. Set aside.
Spray a 9 x 13 inch baking dish with nonstick spray. Layer half of the tater tots on the bottom of the baking dish.
Pour chili mixture on top of the tater tots. Layer the other half of the tater tots on top of the chili.
Sprinkle with the remaining one cup of cheese and cover with foil.
Bake, covered, for 30 minutes. Remove foil and bake another 10 to 15 minutes or until heated through.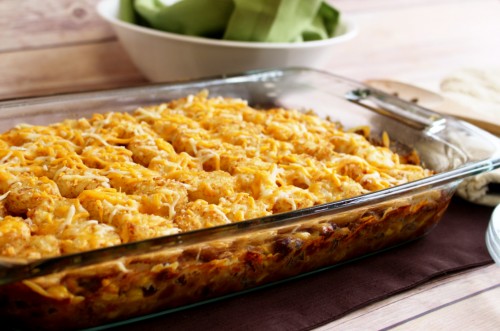 What's your favorite John Wayne movie?
Latest posts by AllFreeCasseroleRecipes
(see all)