These low-carb enchiladas are creamy and full of bold Mexican flavor. Foods low in carbohydrates can help manage type 2 diabetes and some hormonal imbalances. Some insulin users often find their blood glucose is more easily managed when they limit the amount of carbs in their daily diet. Many people have experienced weight loss and other positive health benefits while following a low-carb diet. It's very easy to revamp old favorite dishes like chicken enchiladas by swapping out traditional tortillas for low-carb versions and skipping canned cream soups, which often utilize flour as a thickening agent. It's easier than you might think to make a creamy sauce without using canned cream soup. A creamy green chili and cilantro sauce is quickly whipped up in the blender and finishes this tasty dinner perfectly.
For busy weeknights, you can pick up a cooked rotisserie chicken from your local grocery deli and debone it to use in this recipe. Two large cans (12 ounces or larger) of cooked chicken breast chunks, drained, are also a great time-saving option. Low-carb tortillas keep this dish from weighing you down and adding fresh spinach packs additional vitamin C and antioxidants in every delicious bite.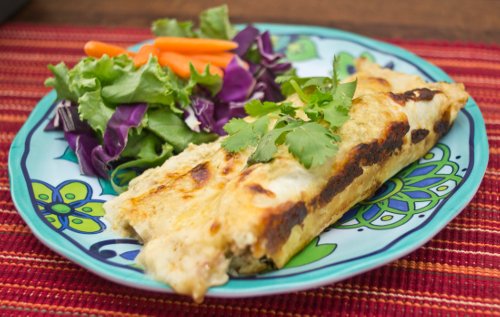 Creamy Chicken Spinach Enchiladas with Green Chili Cilantro Sauce
Ingredients:
10 low-carb tortillas
4 cups shredded part-skim mozzarella cheese
3 cups shredded cooked chicken breast
2 cups fresh spinach leaves
4 ounces cream cheese, softened
1 (10-ounce) can diced tomatoes with green chilies
1/4 cup diced onion
1/4 cup chopped cilantro
1 tablespoon salt
1 tablespoon ground cumin
1/2 tablespoon paprika
1/2 tablespoon chili powder
1 teaspoon ground black pepper
For the sauce:
4 ounces cream cheese
1 cup sour cream
1 (4-ounce) can chopped green chilies
2 tablespoons lime juice
a large pinch of cilantro leaves
1 teaspoon salt
1 teaspoon ground cumin
1/2 teaspoon chili powder
Optional: a few slices of pickled jalapeño
Directions:
Prepare a 9 x 13 inch baking pan with nonstick cooking spray. Heat oven to 350 degrees F.
In a large bowl combine shredded chicken, 4 ounces of cream cheese, diced onion, one 10-ounce can diced tomatoes with green chilies with liquid included, chopped cilantro, and salt, cumin, paprika, chili powder, and pepper to make enchilada filling. Mix well to combine ingredients.
Spoon a small amount of filling onto low-carb tortilla, about two or three large tablespoons per tortilla. Top with spinach leaves and add a large pinch of shredded mozzarella. Roll tightly and place in baking pan seam side down. Repeat until all 10 tortillas have been filled and placed into pan.
In a blender, combine cream cheese, one cup sour cream, one 4-ounce can green chilies with liquid included, lime juice and cilantro, salt, cumin, and chili powder and jalapeño slices if you like your enchiladas on the spicy side. Blend all ingredients until smooth, about one minute.
Spoon sauce over enchiladas and top with remaining mozzarella cheese. Cover dish with foil and bake at 350 for 20 minutes. Remove foil covering and return enchiladas to oven. Increase temperature to 400 and bake for 15 minutes to brown the top.
To keep this dish low-carb, skip the traditional rice and beans for side dishes and serve with a colorful salad.
Photos of the Cooking Process: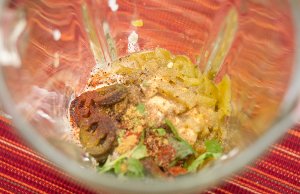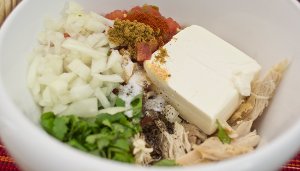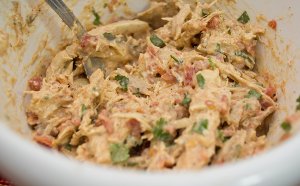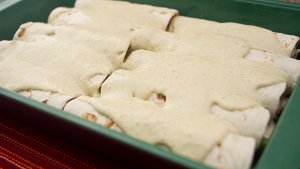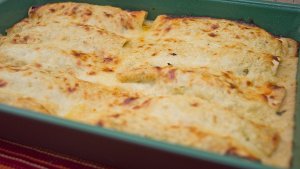 What tricks do you use in order to consume fewer carbs?
Latest posts by AllFreeCasseroleRecipes
(see all)