This blog post comes to us from RecipeLion's Featured Foodie Carole, author of the blog Toot Sweet 4 Two.
Spring is here and the summer grilling season is just around the corner. Looking for an easy-to-make appetizer for your next party that's impressive, too? Luau Bites bring the flavors of summer to your party without having to grill outdoors!
With pre-planning, Luau Bites are an easy party appetizer that can be made ahead of time and popped in the oven before your guests arrive. Served on pineapple rings, they make a beautiful presentation and your guests will think you spent hours in the kitchen making this delicious appetizer just for them!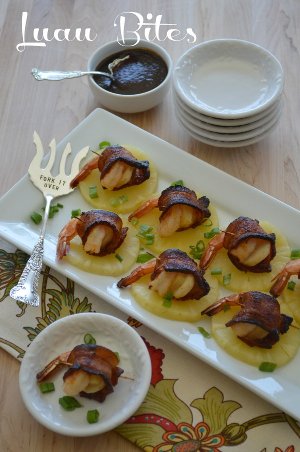 Here are a few pre-planning tips to insure that your Luau Bites leave you stress-free and with time on your hands to enjoy your guests:
Buy whole water chestnuts and slice them in half so that you have two "coins" from each water chestnut. The pre-sliced water chestnuts are just too thinly sliced; 9 times out of 10, the pre-sliced water chestnuts will break when you skewer them with a toothpick.
This recipe makes 14 bites. That's because 7 slices of thick-sliced bacon fit on my large baking sheet! So, if you are expecting a crowd and want to double or triple this recipe, you will need multiple baking sheets and cooling racks.
Pre-cook the bacon to lessen the cooking time AND so that you don't overcook the pre-cooked shrimp!
 This recipe can be pre-made a few hours ahead and stored in the refrigerator. Increase baking time slightly to account for refrigeration.
 If you don't have two cans of pineapple rings in your pantry, use one can and serve the Luau Bites on a round platter. Place the nine rings in a circle on your platter, top each one with Luau Bites and place the remaining 5 Luau Bites in the center of the platter.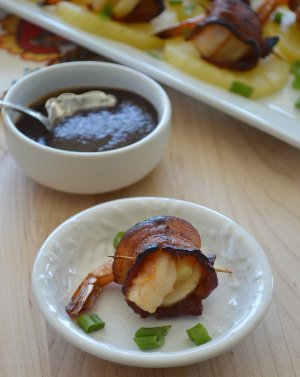 Luau Bites
Ingredients:
1/2 of an 8 ounce can of whole water chestnuts, drained and rinsed – cut 7 water chestnuts into two "coins" (save the rest for another recipe)
7 pieces of thick-sliced bacon, cut in half to make 14 pieces, each slice about 4 to 4 1/2 inches long
14 pre-cooked, peeled, deveined shrimp (26-30 count size – about 1/2 pound), defrosted per package instructions
14 pieces of pineapple chunks (about 1/2 of a 20 ounce can of pineapple in 100% pineapple juice), drained (save the rest for another recipe)
1/2 cup of favorite barbeque sauce, divided (1/4 cup for bacon and 1/4 cup to serve on the side)
2 (20-ounce) cans of 100% pineapple juice pineapple rings, 14 rings drained and patted dry (each can has about 9 rings; save the rest for another recipe)
2 green onions (green part only), chopped (save the white parts for another recipe)
14 toothpicks
Directions:
Preheat oven to 400 degrees F.
Line a large baking sheet with heavy-duty foil and place a cooling rack on top of the foiled-lined baking sheet.
Place bacon halves on cooling rack.
Add barbeque sauce to a small bowl and, using a pastry brush, brush both sides of each slice of bacon with barbeque sauce.
Bake for 15 minutes until slightly cooked (not crispy).
Remove from oven and allow to cool to touch.
Once bacon has cooled, place one shrimp in the center of each bacon slice; top with one piece of the pineapple chunks and one slice of the water chestnuts.
Holding shrimp, pineapple, and water chestnut in place on top of bacon with one hand, use your other hand to wrap the bacon around the shrimp, pineapple, and water chestnut.
Skewer all pieces (bacon, shrimp, pineapple, and water chestnut) with a toothpick and return to baking sheet/cooling rack.
Repeat until all are skewered and placed on baking sheet.
Bake for 20 to 25 minutes until bacon is cooked and slightly crispy (do not burn!).
While Luau Bites are cooking in the oven, place the pineapple rings on a large serving platter; these will be the "bed" for your Luau Bites.
Remove Luau Bites from the oven and place one on top of each pineapple ring on the serving platter.
Sprinkle with sliced green onions and serve remaining 1/4 cup of barbeque sauce on the side as a dipping sauce.
Makes 14 Luau Bites. Enjoy!
Latest posts by RecipeLion
(see all)