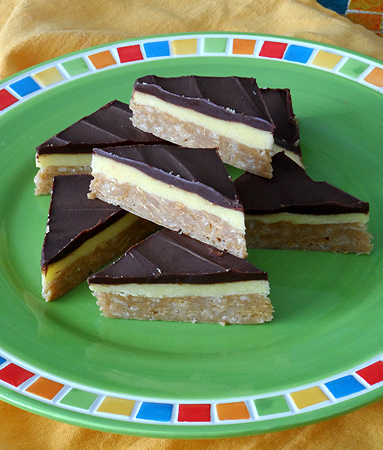 Just updated with 2 FREE eCookbooks and BONUS no-bake recipes!
Oh, peanut butter, how you tease us. Its rich and buttery flavor goes so well with its tempting friend chocolate that when the two get together, it is absolutely divine.  And even though we know peanut butter tastes great on sandwiches and on fresh apples, heck even fresh out of the jar, when it comes to desserts, recipes with peanut butter are our guilty pleasure. We can't quit you, peanut butter, and with this new heavenly no bake dessert from our friend Amanda Formaro, we don't think we'll be able to any time soon.
We all know how chocolate and peanut butter go together like chips and salsa, or like ham and cheese, or even Laverne and Shirley, but what makes this recipe so delicious is that there is one more ingredient that makes it extra special, vanilla pudding. It may sound a little strange at first, but it's this ingredient that makes the bars extra creamy. Plus, the vanilla flavor makes the melted chocolate chips a little less bitter and more like milk chocolate. With just the right amount of sweet you have to try it.
No Bake Pudding Bars have three different layers that each come together to make every bite sensational. The bottom layer is a buttery, crunchy layer made from rice krispies, cornflakes, and, of course, peanut butter. The middle layer is made from instant vanilla pudding to give it that rich and creamy flavor that we love. Lastly, the bar is topped with melted chocolate and cooled so everything sets into one decadent dessert that is just in time for spring and summer. A great no bake recipe for the family, make sure to bring these to your next family party or get-together and show everyone how peanut butter can make a dessert that much better. If you're going to be feeding a crowd Recipe Chatter has tons of great dessert recipes, including more amazing no-bake dessert recipes.
No Bake Pudding Bars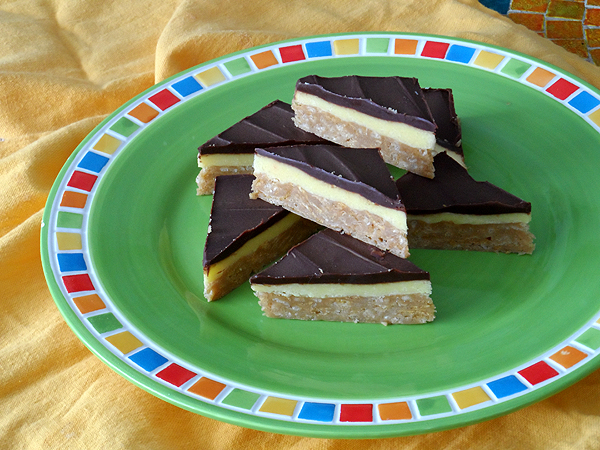 Ingredients
1 cup sugar
1 cup light corn syrup
2 cups creamy peanut butter
3 cups Rice Krispies
3 cups Corn Flakes
3/4 Cup unsalted butter
4 cups powdered sugar
2 4-serving packages vanilla instant pudding
1/4 cup milk
1 12-oz package semi sweet chocolate chips
1/2 cup unsalted butter
Instructions
Line a rimmed cookie sheet with foil and set aside.
Over medium heat combine sugar and corn syrup in a large saucepan and cook until bubbling at the edges, stirring occasionally.
Cook, stirring, one minute more. Remove from heat and stir in peanut butter until melted.
Stir in rice and corn cereals until completely coated. Press mixture into the lined cookie sheet.
In saucepan over low heat, melt 3/4 cup unsalted butter.
Remove from heat and stir in powdered sugar, vanilla pudding mix and milk. Spread pudding mixture over the cereal layer in the pan.
In microwave or in a saucepan over low heat, melt chocolate chips and 1/2 cup butter.
Stir until melted and creamy, spread over pudding mixture in pan.
Refrigerate for one hour to set. Lift bars out with foil and cut into squares or triangles.
2 FREE eCookbooks and BONUS no-bake recipes!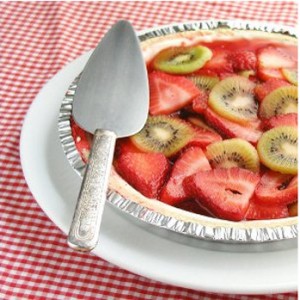 No Bake Recipes: 21 Fuss Free Easy Desserts
10 No-Bake Christmas Cookies FREE eCookbook
Cool Down This Summer with 7 No Bake Desserts
No Bake, No Problem: Top 15 No-Bake Desserts of the Season
What's your favorite thing to make with peanut butter?
Latest posts by RecipeLion
(see all)