Just updated with BONUS cobbler recipes!
Let's talk cobblers. Peach, apple, or berry, no matter what kind of fruit you put it in a cobbler it always comes out delicious. All of the flavors and spices cook together in the oven, blending to create one of America's favorite desserts. With a crumbly brown sugar and cinnamon top, the smell overtakes the house and has everyone waiting by the oven to see the finished product.  Served with vanilla ice cream, it really is a taste of heaven. No matter what the holiday or occasion, cobbler recipes always hit the spot. They are especially great fall desserts or Thanksgiving desserts because the warm, comforting taste.
This delicious peach cobbler recipe comes from our friends the Two Old Crabs. Made with fresh peaches, it's a sweet treat that will bring smiles to your family's faces. Baked until it has a golden brown topping, watch it glisten and smell the sweetness as you dish out your first serving. Enjoy and happy eating.
Perfect Peach Cobbler
Ingredients
3 cups sliced peaches
1 tablespoon of lemon juice
For the Topping:
1 beaten egg
1 cup of sifted flour
1/2 teaspoon of salt
6 tablespoons melted butter
3/4 cup sugar
1 tablespoon natural sugar, for garnish.
Directions
1.  Preheat oven to 350 degrees F.
2.  Place peach slices on bottom of prepared baking dish.
3.  Sprinkle with lemon juice.
4.  Sift dry ingredients together.
5.  Make a well.
6.  Add egg, tossing with fork until crumbly.
7.  Spread loosely over peaches.
8.  Drizzle with melted butter.
9.  Sprinkle natural sugar on top for sparkle.
10.  Bake at 350 degrees F for about 40 minutes or until golden brown on top.
11.  Serve with whipped cream or scoop of ice cream.
BONUS cobbler recipes!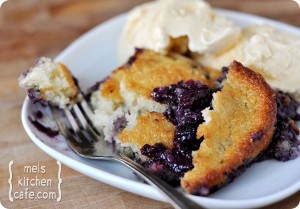 For what event will you make this peach cobbler recipe?
Latest posts by RecipeLion
(see all)