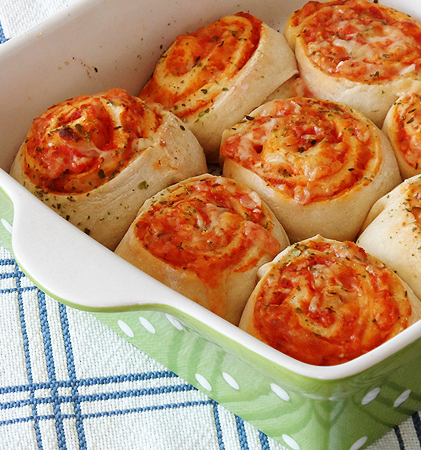 Just updated with more one-of-a-kind pizza ideas!
It seems that most people have a special day of the week dedicated to pizza, also known as "Pizza Night." When I was a kid, it was the most anticipated night of the week. In fact, it still is the most anticipated night of the week.  It switches around, depending on which restaurant has the best daily deals, but sometimes, because of budget reasons, we have to settle for homemade pizza. And if it's a good pizza recipe, you shouldn't be able to tell the difference.
What makes homemade pizza so great and easy is that you can find pre-made crust in the store and you get to select what toppings you want on the pizza. It truly is your own personal pizza and for so much less! You no longer have to pick off the olives or green peppers. You can just make your own personal pizza with whatever you want on it. So, when we received these Pizza Roll Ups from our friend, Amanda Formaro, we knew that they were a perfect substitute for your Pizza Night.
Made with all of the ingredients found in pizza, these mini roll ups are great when you don't want to spend money on pizza, but still want a cheesy slice. Add in some of your favorite ingredients and roll them up to make a quick and easy homemade pizza. A fun dish for the family, make them for dinner tonight!
Note: To print this recipe just highlight the ingredients and instructions with your mouse and right click. Select copy and then paste into a word document. That should prevent you from printing out the entire post.
Pizza Roll Ups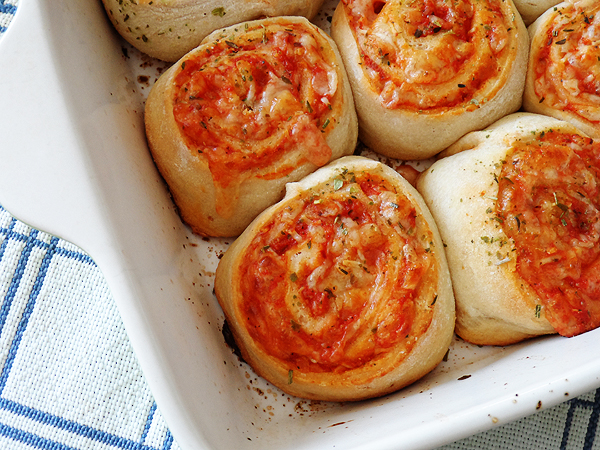 Ingredients
1 can refrigerator pizza dough
1/2 cup pizza sauce
1 cup shredded Mozzarella cheese
1 tablespoon shredded Parmesan cheese
1 teaspoon melted butter
1 teaspoon dried Italian seasonings
garlic salt, to taste
Instructions
Preheat oven to 400 degrees F. Spray a 9×9 square baking pan with cooking spray.
Lightly flour work surface and remove pizza dough from can. Unroll to a rectangle and spread with pizza sauce.
Sprinkle with Mozzarella cheese and then with the Parmesan cheese.
Starting from the long end, roll up dough and wrap in parchment.
Place in freezer for 15 minutes to chill.
Meanwhile, melt the butter in a small bowl.
Remove dough log from freezer and slice into 1 1/2-inch discs.
Place in prepared pan, slice side up. Brush tops with melted butter, then season lightly with garlic salt and sprinkle with Italian seasoning.
Place in oven and bake 22-27 minutes. Rolls are done when crust is lightly browned and cheese and sauce are bubbly.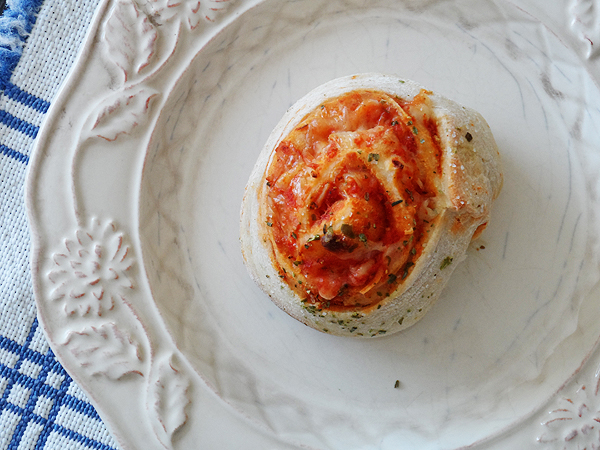 If you are looking for more easy eats, check out Recipe Chatter's other quick and easy recipes for great food faster.
BONUS!
8 Melt-in-Your-Mouth Pizza Casserole Recipes
Recipes for Easy Homemade Pizza
What are your favorite pizza toppings??
Latest posts by RecipeLion
(see all)