This guest post comes to us from Judy Hannemann. She is a retired engineer and author of the blog, The Midnight Baker.
Poppy Chicken Florentine:  A happy marriage of two well-loved casseroles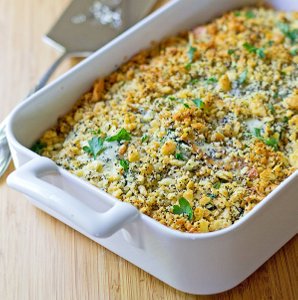 In late May, most folks are thinking picnics and barbecues; not casseroles.  However, we are having a rather late start to summer here in New England.  So, with the damp chilliness, my mind turned to casseroles.  Not just any casserole, but the old, time-honored classic Chicken Poppyseed Casserole.  I haven't had that in ages and wanted to make it.
I had all the ingredients for the chicken poppyseed casserole and was starting to assemble the ingredients when I spied a half package of chopped spinach in my freezer, as well as some black olives and a piece of mozzarella cheese hanging around in my fridge.
There wasn't a lot of olives or mozzarella, and frankly, what can you do with a half package of spinach?  I'm tired of throwing away food I have forgotten about or don't really have quite enough to make something more substantial with it.  Most times small amounts of leftovers such as these get pushed to the back of the freezer or refrigerator and go bad.  No one can afford that loss now with the price of food, so I figured I better strike while the iron was hot, even if the weather wasn't.
Yes, I had a hankering for Chicken Poppyseed casserole, but those ingredients got me to thinking about Chicken Florentine, and the small amounts of the cheese, spinach and olives would do nicely here.
I thought I might experiment and try to combine the two casseroles into something new.  I started by taking the basic ingredients of one casserole and embellishing it with some components of another.  I also thought that flavoring the buttered Ritz cracker crumbs with some garlic would add a great flavor to this now Italian-style dish.
The result was an amazingly delicious new casserole dish.  Certainly you can add or subtract what you don't like in mine for something more your taste.  I used black olives, but green ones stuffed with pimiento would be fabulous, and even the addition of some Romano or Parmesan cheese to the cracker crumbs would kick this up quite a bit.  Adding some sliced fresh mushrooms would be an excellent addition.  I just didn't have any otherwise that would be in here, too.  I suggest about one cup if you want to add them.
I pounded my chicken breasts to a uniform thickness (¼ inch), steamed them, and then cut them into serving-sized portions, but you could shred, cube, or dice if you wish.
1 lb boneless, skinless chicken breasts, cooked
1 can (10 oz) cream of chicken soup
1 can (10 oz) cream of mushroom soup
1 cup sour cream
1 tsp salt (optional)
1/2 cup sliced black olives
1 cup chopped spinach, thawed and thoroughly drained
1 cup shredded mozzarella
1/2 cup butter melted
1 sleeve Ritz crackers, crushed
2 tbs poppy seeds
2 cloves garlic, crushed
1.  Preheat oven to 350 degrees F.  Spray or grease a 11 x 7 -inch casserole baking dish.
2.  Slice or dice cooked chicken.  Set aside.
3.  In a medium bowl, combine the soups, sour cream, and the salt if using.
4.  Melt butter and garlic in a small saucepan.  Swirl garlic in the butter until the garlic is infused in the butter.  Remove garlic and discard.  Add the Ritz crackers and poppy seed, mixing well.  Set aside.
5.  Spread 1/2 of the soup mixture on the bottom of the baking dish.  Add the chicken.  Top with the drained spinach and black olives.  Spread remaining soup mixture on top. Top with mozzarella.
6.  Top with the buttered crumbs and bake at 350 for 25 to 30 minutes or until crumbs are golden brown and sauce is bubbling.
Serves 4
What gets your creative juices going in your kitchen?
Latest posts by AllFreeCasseroleRecipes
(see all)