We love all types of food, but we have to say that pizza is one of our favorite dishes to make and eat. It's great because you can customize it any way that you like. One of our favorites to order is a meat lovers pizza. Loaded with bacon, pepperoni, sausage and ham, it really is mouth watering. It may not be the healthiest choice of pizza, but it sure is delicious. Or you can go the more classic route and have a Margherita pizza and enjoy the flavor of fresh basil and tomato. It really is all up to you on what you want to put on your pie.
This delicious recipe comes from our friends the Two Old Crabs and it sure is delicious. Made on the grill to give it a smoky and crunchy bottom, it's loaded with cheese and fresh vegetables. Perfectly sized for one, you can eat the whole thing in one sitting. What more can you ask for? It's pizza.
Rustic Grilled Pizza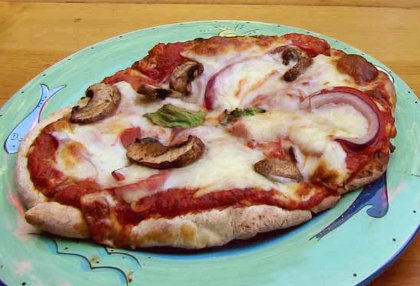 Ingredients
1 loaf frozen bread dough (or other hearty pizza dough)
1 cup shredded mozzarella
1 cup shredded Mexican cheese
1 roma tomato, sliced thin
1 red onion, sliced thin
pepperoni
mushrooms, sliced
fresh basil leaves
marinara sauce
use any of your favorite ingredients!
Directions
1.  Cut bread dough into 3 or 4 pieces for individual pizzas. Flour surface well and roll to approximately 1/8″- 1/4″, depending on taste.
2.  Preheat grill. I use a smoker on my gas grill with wine barrel wood chips to give it a hearty flavor (mesquite works well).
3.  Put the dough on the grill. Cook one side until it's just getting a nice golden color.
4.  Flip the dough and cook for about 1 minute before taking the dough off the grill. You only want the second side to barely start cooking.
5.  Load the crust with your favorite toppings and place the dough back on the top shelf on your grill. If you do not have a top shelf, turn the grill to low so that the bottom crust doesn't burn. Close the lid: this turns your grill into a hot oven. When the cheese is melted and gooey, the pizza is done. Enjoy!
Latest posts by RecipeLion
(see all)