This guest post comes from our Featured Foodie Tess Gardner. It doesn't matter what time of year it is, we simply can't get enough chili. It's a great winter recipe to warm you up and it's also a great summer recipe to just toss in the slow cooker to keep the house cool.
Made with the Xtrema Wok this recipe for chili seals in all of the flavor to make one of the tastiest chillies in our collection. To get your own Xtrema wok be sure to visit their site www.ceramcor.com and see all of the great cookware they have. And don't forget to enter our Xtrema Wok Giveaway so you can win one! (contest ends 4/29/13)
Sweet Potato Chili with Baked Eggs
by Tess Gardner
The weather here has been less than warm and my family wanted a hot, comforting meal so I took advantage of my oven-friendly Xtrema wok to prepare a protein packed paleo chili recipe the whole family adored.
Try out your durable Xtrema wok in the oven with this easy to make sweet potato chili recipe.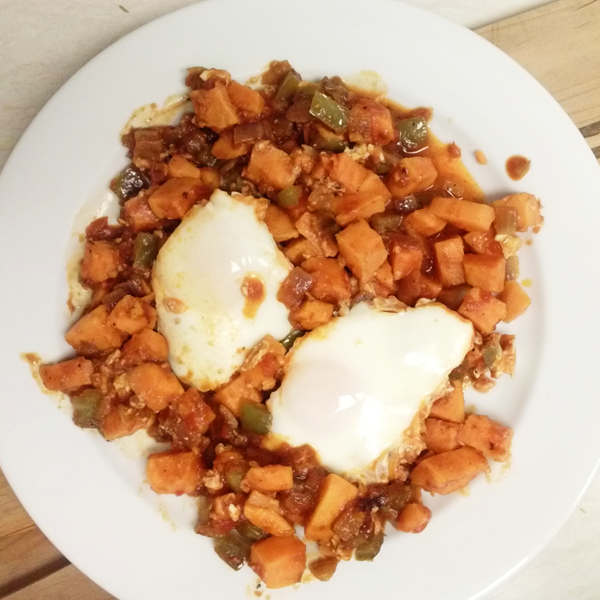 Ingredients
Large sweet potatoes (yams), peeled and diced
green peppers, seeded and diced
small red onion, diced
1 cup water
¾ cup roasted tomato chipotle roja
2-4 farm fresh eggs
1 tablespoon organic unrefined coconut oil
 Instructions
Preheat oven to 350 degrees F.
Preheat wok over medium heat; add coconut oil, potatoes, onion and peppers. Saute for  10 minutes, or until tender, stirring occasionally.
Add water and roasted tomato chipotle roja, mix well. Gently crack eggs over top of potato mixture and bake in oven for 7-10 minutes or until desired consistency of eggs. ENJOY!!!
*NOTE: Remove red silicon pot holder from handle prior to baking and use oven mitts to remove wok from oven.
Latest posts by RecipeLion
(see all)