Today's guest post comes to us from Kristin, a writer for Wolf Brand Chili and other ConAgra brand.
It seems like the switch flipped from summer to fall in the blink of an eye and that means we can start using those fall recipe favorites.  When the weather cools down, everyone loves that food that warms us up. This cornbread chili casserole does just that.  With peppers and chili, this easy dinner dish has plenty of flavor and heat to keep you warm when it's cool outside.  Something else that makes it great is the fact that it almost tastes better as leftovers the next day.
Cornbread Chili Casserole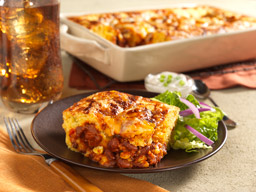 Ingredients:
No-stick cooking spray
1 (8.5-ounce) package corn muffin mix
2 eggs
1 (11-ounce) can whole kernel corn with red and green peppers, drained
1/2 cup reduced fat sour cream
2 tablespoons granulated sugar
1 (15-ounce) can Wolf® Brand Lean Beef Chili With Beans
1 cup shredded reduced fat Cheddar & Monterey Jack cheese
Directions:
Preheat oven to 375 degrees F. Spray an 8 x 8-inch glass baking dish with cooking spray; set aside. Stir together corn muffin mix, eggs, corn with peppers, sour cream and sugar in large bowl.
Spread batter in bottom of prepared dish. Spoon chili evenly over top of batter, up to 1/2 inch of sides of dish. Sprinkle with cheese.
Bake 35 to 40 minutes or until bubbly and edges are browned.
Tips:
If you can't find canned corn with green and red peppers, substitute in fresh corn as well as red and green peppers.
You can find more chili recipes on RecipeLion.com.
How do you like your chili?
Latest posts by RecipeLion
(see all)