Now that the days are getting shorter and it's still dark when we wake up, it's even harder to get out of bed and make breakfast. Yeah, yeah, breakfast is important, but who has the time, right? If a breakfast recipe is going to take longer than 5 minutes before I leave for work, it's not happening. Blame it on the snooze button. However, there's a magical solution to all of this – handy dandy slow cooker breakfast recipes.
Slow cooker breakfast recipes are super easy. You can just toss it together the night before, then set your slow cooker. You'll wake up to a hot, filling breakfast. You can even scoop some up and take it to go. You aren't limited to egg-y/cheesy casseroles, either. There's a surprising amount of variety, from Semi-Homemade Slow Cooker Caramel Rolls to baked breads.
I didn't have breakfast this morning – MISTAKE! All the regrets. Breakfast makes the day start. Well, that and this little thing called the sun. It's really hard to start your day without a hearty breakfast, because your poor brain and body are fueled by… nothing. It's like when that little light comes on in your car indicating that you're low on gas, and you just kinda shrug and figure you'll probably make it to work on fumes. But your car is still beeping and flashing, basically freaking out that you haven't fed it. Your body is the same way without breakfast! FEED THE POOR THING.
It's even more important to eat breakfast in the fall when we're all busy with work and school. We need the extra energy to enjoy apple-picking and twilight walks. 🙂
Check out these amazing recently-added slow cooker breakfast recipes, and plan your mornings better than I did today. I'll be over here, wishing I made one.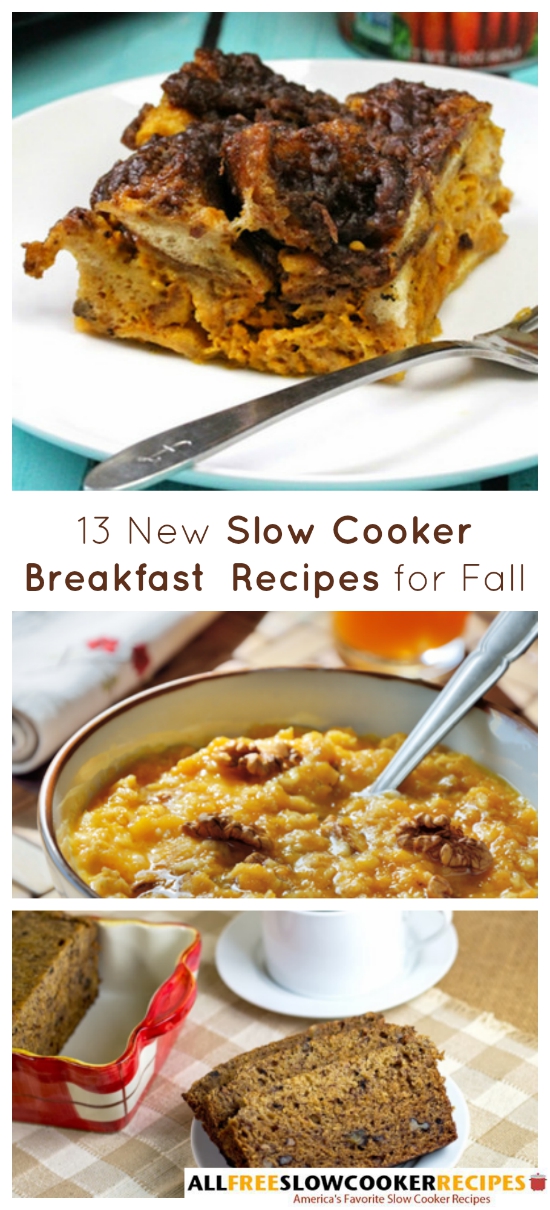 13 New Slow Cooker Breakfast Recipes for Fall
What's your favorite fall flavor?
Latest posts by AllFreeSlowCookerRecipes
(see all)