I've had a blast making new casserole recipes in our Test Kitchen. They are all easy, family-friendly dinners that I think you will love. The first is a vintage chicken casserole that may bring back memories of your childhood. The second is an updated version of a classic. And the third is a brand new casserole. I hope you enjoy these original recipes from AllFreeCasseroleRecipes.

This first recipe is a vintage favorite. Vintage Chicken Noodle Casserole is an easy dinner to put together, yet it is full of character. The three ingredients that stand out the most are the mushrooms, olives, and slivered almonds. They turn this meal into something more than just chicken and pasta. A shortcut I like to use is to cook the chicken beforehand. I like to I cook extra chicken in the beginning of the week so I have some ready throughout the week. When I made this recipe, the chicken breasts were already cooked, so I just had to cube them. This step saves time, which is very helpful when you're making a weeknight meal.
Ingredients:
1/4 cup butter
1/4 cup flour
1 can condensed chicken broth
1/4 teaspoon salt
1/2 teaspoon black pepper
2 chicken breasts, cooked and cubed
1 (4-ounce) jar button mushrooms
2 cups pasta, cooked
1/3 cup olives, halved
1/5 cup slivered almonds, divided
1/2 cup bread crumbs
1/2 cup shredded Cheddar cheese
2 tablespoons butter, melted
This next recipe is an updated version of the classic chicken and biscuits. I eliminated the homemade biscuit aspect, which makes this dinner come together much faster. I don't know about you, but I don't have time to make homemade biscuits during the week. I used an 8-count tube of refrigerated biscuits. I could only fit four on the casserole, but I like bread, so I included the extra four biscuits with the meal. After all, you do need to bake the whole tube at once, so you might as well eat them while they're fresh!
Ingredients:
2 cups cooked shredded chicken
1/2 cup peas
3/4 cup carrots, chopped
1/2 cup broccoli, chopped
1/4 yellow onion, chopped
1 (10.5-ounce) can condensed cream of chicken soup
1/4 cup water
1/2 teaspoon salt
1 teaspoon black pepper
1 tube refrigerated biscuits
1/2 cup Cheddar cheese, shredded
The last recipe today is a new one that I am most excited about. Perhaps it is because I am new to the world of pierogi and still can't get enough of them. Now, I must warn you, this is not the healthiest recipe around. It is, however, delicious comfort food that's hard to pass up. You can use any kind of frozen pierogi you like, but I prefer ones filled with meat so it's a heartier main course. The roasted garlic and shallots add nice flavor and complement the bacon. I sprinkled the casserole with green onions, but you could also sprinkle it with bacon or add a bread crumb topping. Enjoy!
Ingredients:
3 shallots
3 garlic cloves
1 teaspoon olive oil
7 pieces bacon, fried to a crisp, reserve 1 tablespoon bacon fat
2 tablespoons flour
2 cups heavy cream
1 cup shredded Cheddar cheese
1 cup shredded Monterey Jack cheese
2 packages frozen pierogi (filling of your choice)
This Week's Giveaway: Polska Foods Pierogi Giveaway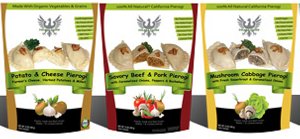 This week, we are giving away 3 packages of frozen pierogi from Polska Foods. The three varieties include Potato and Cheese, Savory Beef and Pork, and Mushroom and Cabbage. Read our review.
The giveaway runs from 12/30/13-1/12/14. Enter today.
Which recipe is your favorite?
Latest posts by AllFreeCasseroleRecipes
(see all)