From the time when I was a small child, I've always been a huge fan of banana splits. Whenever we'd go to a restaurant, I'd actively seek it out on their dessert menu and then bug my parents until they would order one for our table. They'd try to pretend that we'd all have an equal share of the banana dessert, but they knew that once that bowl hit the table it was all mine. Sure, I'd give them small portions, but there was only so much of my banana split that I'd be willing to sacrifice.
I've since learned how to share my desserts better, but I'm still utterly obsessed with the taste of a banana split. After all, it's just so incredibly hard to beat the classic taste of a sweet banana split. There are so many different flavors in a banana split that each bite is a new experience. Bananas, chocolate, strawberries, and a bit of pineapple come together in a way that I would never have thought possible.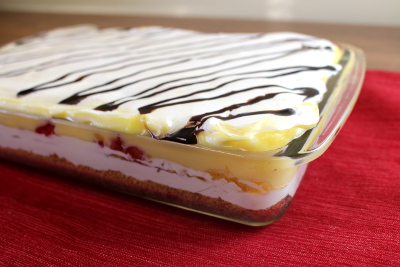 Now that I'm older, I've learned that it's possible to incorporate the flavors of one type of dessert that you love into a different kind of dessert. For instance, I'm a huge, HUGE fan of the Root Beer Float Cupcakes that we have on TheBestDessertRecipes.com. They're really the best of both worlds. So, when I was thinking about what I wanted to make in our Test Kitchen this week, I kept returning to the idea of a banana split cake. Then I had a giant light bulb go off in my brain. I thought to myself, "Why don't I make a banana split dessert lasagna? They are much easier than banana split cakes." Dessert lasagnas have been really popular lately and I'm definitely a huge fan of them. I mean, how could you ever turn down a deliciously creamy layered no-bake dessert recipe? The answer is: You can't.
So, I browsed a few bloggers for recipe information and got to work creating this Banana Split Lasagna to share with all of you. I picked up all of the ingredients that I didn't already have in my kitchen in a simple trip to Walmart and got to work. This dessert has five different layers: a buttery graham cracker crust, sweetened cream cheese/whipped cream, sliced strawberries and crushed pineapple, banana cream pudding, and a not-to-be-missed Cool Whip and banana split-fixin's to top it all off. It's absolutely delicious, if I do say so myself.
The only issue I had making it was waiting for it to firm up in the refrigerator. I jumped the gun a bit because I couldn't wait to try it, so it was a bit messy. Positively divine, but messy. So, do what I didn't and make sure to wait for your dessert to set. That is unless you don't have to impress anyone with the banana split dessert!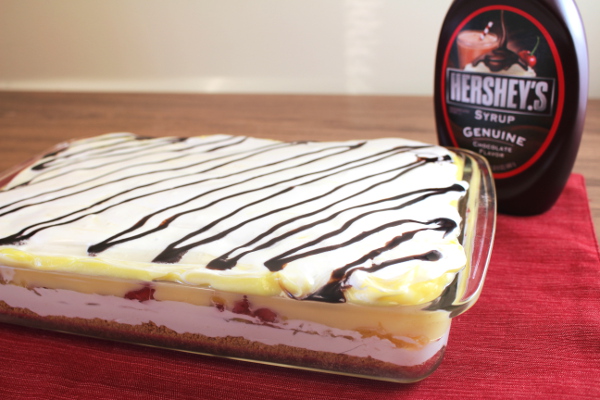 Banana Split Lasagna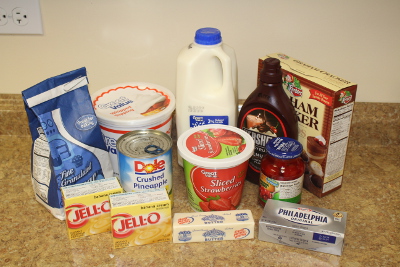 Ingredients
2 cups graham cracker crumbs
1/2 cup butter, melted
8 ounces cream cheese, at room temperature
1/2 teaspoon vanilla
1/4 cup granulated sugar
2 Tablespoons + 3 1/2 cups cold milk, divided
16 ounces Cool Whip topping, divided
1 (23-ounce) container of frozen sliced strawberries, thawed and drained well
1 (20-ounce) can crushed pineapple, drained well
2 (3.4 ounce) boxes of banana cream pudding instant pudding
Chocolate syrup
Maraschino cherries (optional, but encouraged!)
Nuts (optional)
Directions
Grease a 9×13-inch baking dish; set aside.
In a medium bowl, combine the graham cracker crumbs and melted butter. Stir the mixture until it's evenly moist. Then, dump the crumbs into your baking dish and press them into an even layer. Then, place the baking dish into your refrigerator until you've prepared your next layer.
In another medium bowl, combine the cream cheese, sugar, 2 T of milk, and vanilla with a hand mixer on a medium speed. Mix together until fluffy and light. Then, using a rubber spatula, completely mix in 8 ounces of the Cool Whip. Once the mixture is completely combined, remove your baking dish from your refrigerator and evenly spread the cream cheese mixture on top of the graham cracker crust.
Pour your drained strawberries and pineapple on top of the cream cheese mixture and spread it evenly. It doesn't matter which fruit you put in first.
Mix the two boxes of banana cream instant pudding with 3 1/2 cups of cold milk. Whisk for a few minutes until the pudding starts to thicken. Then, use a rubber spatula to spread the pudding over the fruit layer. Let the dessert sit for about 5 minutes so that the pudding can firm up a bit more.
Spread the remaining 8 ounces of Cool Whip over the top of the dessert as evenly as possible. Drizzle (or pour, your choice) the chocolate syrup on top of the Cool Whip layer. Allow the dessert to chill in the refrigerator for at least 4 hours before serving or overnight.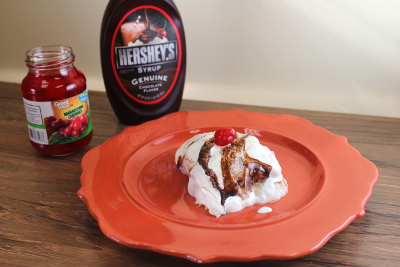 Notes
You may end up having more of the cream cheese mixture than you need, depending on the exact size of your dish. If you do have extra, it makes for a delicious fruit dip.
I didn't try it, but if you'd like to add more chocolate into your lasagna, consider mixing in a bit of cocoa powder in with the graham cracker crust or sprinkling the dessert with mini chocolate chips.
To make sure the pineapple and strawberries are drained well, try running water over them while they're in a colander or strainer. It's an easy way of removing the juices they're packaged in.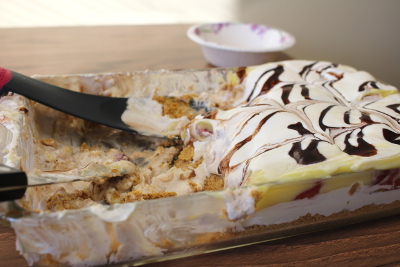 Update: It's been one year and this recipe is still going strong! I hope you enjoy my banana split dessert, and don't forget that Recipe Chatter has tons of yummy dessert ideas.
Some of our favorites include:
What was your favorite dessert as a child?
Latest posts by TheBestDessertRecipes
(see all)