Tis the season for dessert lasagna recipes! If you can't get enough of cold desserts like icebox cake recipes, you've just hit Rudolph's jackpot (three red noses, yay!) with this Chocolate Peppermint Dessert Lasagna recipe.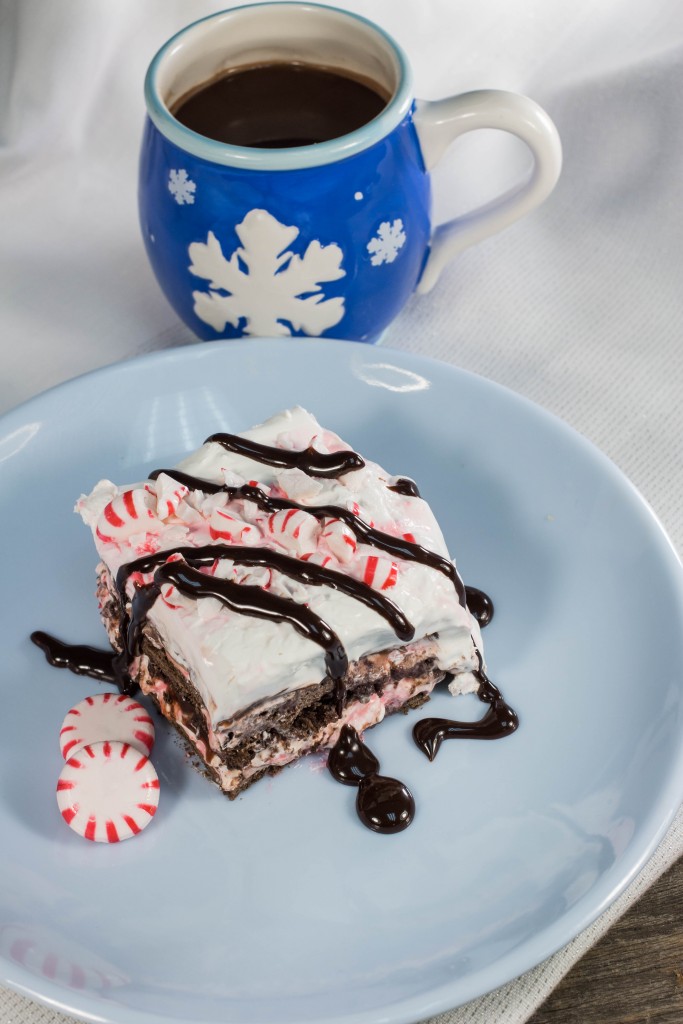 Straight from Mrs. Claus' recipe book (probably), this festive, easy dessert recipe serves a crowd — making it the perfect dessert for holiday parties! It looks pretty amazing, too. With layers of pudding, Cool Whip and graham crackers, this dessert lasagna won't disappoint.
If you're a fan of Peppermint Mochas and other tasty chocolate mint treats, this one will be your new fave. Give our latest Test Kitchen creation a try!
P.S. If you love these kind of desserts, definitely check out our all-star recipe for Banana Split Lasagna.

Chocolate Peppermint Dessert Lasagna Recipe
Serves 20
Ingredients:
1 box (5-ounce size) dark chocolate pudding mix
2 cups cold milk
8 ounces cream cheese at room temperature
2 cups powdered sugar
16 ounces Cool Whip, thawed and divided
¼ teaspoon peppermint extract
1 ½ cups peppermint baking chips (10 ounces) or crushed candy canes, divided
2 sleeves chocolate graham crackers
¼ cup prepared hot fudge sauce for garnish
Instructions:
Combine pudding mix and cold milk, whisking until all dry particles are well mixed into the milk. Chill for 10 minutes while preparing the rest of the ingredients.
In an electric mixer, beat cream cheese and sugar on medium speed until smooth. With machine running, add powdered sugar gradually and beat until combined.
Add 8 ounces of the Cool Whip, peppermint extract and 1 cup of the peppermint chips and beat until fluffy.
In a 9 x 13 casserole, fit one layer of graham crackers to cover the bottom completely.  Spoon on half of the cream cheese layer and smooth the top. Add half of the pudding, smoothing into an even layer.
Make a double layer of graham crackers, breaking them to fit and cover the pudding completely. Add the remaining cream cheese and the remaining pudding in even layers.
Finish with the remaining Cool Whip, smoothed evenly.  Cover with plastic wrap and chill for several hours, or overnight.
When ready to serve, top with the remaining ½ cup peppermint chips and warm the fudge sauce just enough that it pours easily to drizzle over the top of the lasagna.
Are you on the naughty or nice list this year?
Latest posts by RecipeChatter
(see all)