I've got another test kitchen-approved recipe (and Easter dessert tutorial) for you today that I can't wait for you to see and make. But first, a little bit of background…
A few weeks ago, the lovely people behind PEEPS sent us a few of their products and told us to have fun baking with them. I don't know about you, but I grew up on PEEPS so I was beyond excited to receive a box full of colorful sugar-coated marshmallows.
After gathering my supplies (and making my cake), I sat down to think about how I wanted to use PEEPS for decorating. In my opinion, staying simple is always best so I didn't really want to overload my cake with PEEPS. But I didn't just want to put two PEEPS on the top of my cake and call it a day. Then it hit me: cakes are circular, just like flowers.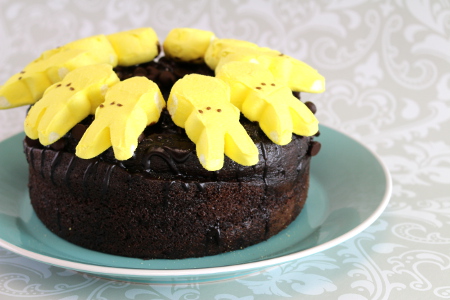 Because I wanted to make my dessert look spring-y, I thought it would be a good idea to outline the top of the cake with PEEPS, making it look like a sunflower. The cake turned out so cute. The one suggestion I have for anyone trying to do this sort of decoration is to have a small bag of icing or even some toothpicks on hand. That way, the PEEPS are easier to place and you won't have to smush them onto the cake.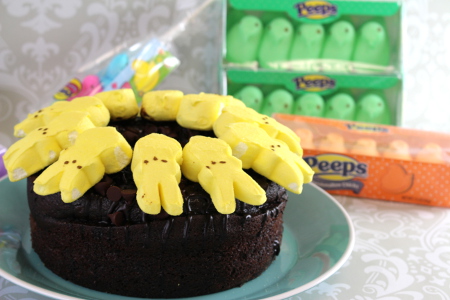 After I decorated my cake, I came up with a dessert where I can include PEEPS as an ingredient. After a few days of going back and forth between ideas, I decided to make a batch of cookie bars!
The recipe for these Chocolate Surprise Cookie Bars is very similar to the one for Rolo-Stuffed Caramel Blondies that were shared on the blog two months ago. These cookie bars are filled with Peepsters, one of PEEPS' newest creations. Peepsters are bite-sized chocolate candies that have a wonderful marshmallow-flavored cream inside of them (which is the "surprise" part of this recipe!). The cream almost tastes like the filling of Goetze's Caramel Creams (or Bulls Eye's) candies. This cookie bar recipe also has tons of rainbow sprinkles mixed in to give it bursts of color.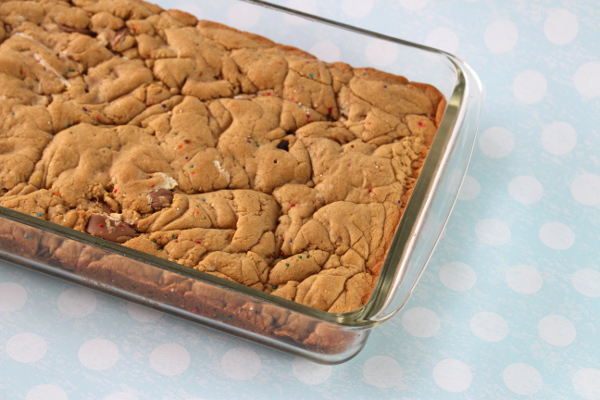 If you want to take this cookie bar recipe to the next level, you can cover them with a simple homemade PEEPS frosting! Simply melt down a few PEEPS, mix the melted marshmallow sauce with your favorite frosting, and spread it on top of the bars. I used cream cheese frosting because the PEEPS are sweet to begin with so I didn't really need any extra sweetness. You can add a bit of food coloring to the frosting if you'd like your colors to be a tad brighter.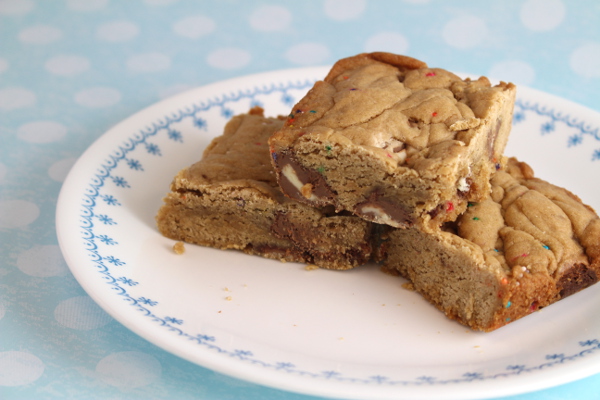 Everyone here in our office absolutely loved these Chocolate Surprise Cookie Bars. They were so good that the batch didn't last very long. These treats make for the perfect Easter dessert, but would also taste pretty great at all times of the year. Enjoy!
Chocolate Surprise Cookie Bars
For the cookie bars
2 1/2 cups all-purpose flour
1 tsp. baking powder
1/4 tsp. baking soda
1/2 cup unsalted butter
2 cups brown sugar
2 eggs
1 tsp. vanilla extract
1 cup PEEPS Peepsters
Rainbow nonpareils (to your satisfaction)
Preheat the oven to 350 degrees F. Spray a 9 x 13 inch pan with non-stick spray and set aside.
In a larger bowl, mix together flour, baking powder and baking soda. Set aside.
Measure brown sugar into a small mixing bowl.
Melt butter (either on the stove or in the microwave) and then mix completely with brown sugar.
Add the eggs, one at a time, to the butter mixture and whisk well. Then stir in vanilla.
Pour the butter mixture into the bowl with the flour and stir until smooth.
After measuring out 1 cup of Peepsters, cut each candy in half. Fold candies into cookie bar dough.
Fold in sprinkles. You can use as much or as little as you'd like.
Pour the dough into the prepared pan and smooth on top. You may have to use a spatula to press the dough into the pan's corners and to make it even.
Bake for 20-25 minutes until cooked through and the edges of the pan have begun to brown. Allow to cool before slicing.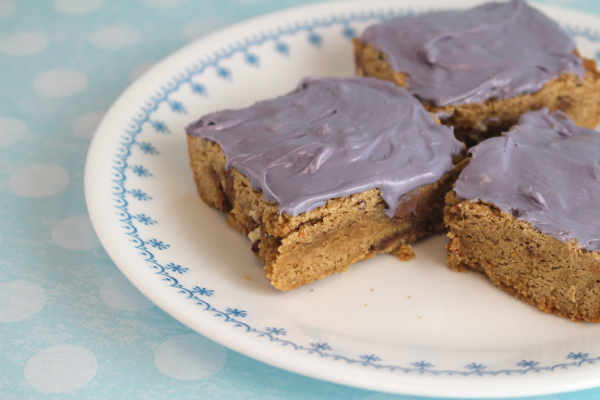 For the homemade PEEPS frosting
5 PEEPS of whatever color you'd like
1 Tablespoon water
1/4 teaspoon Vanilla
1 tub of your favorite frosting (I used cream cheese)
Food coloring (optional)
Add PEEPS, water, and vanilla into a small sauce pan.
Heat ingredients on medium until thoroughly melted and smooth. Add more water if the marshmallow mixture is too sticky.
Scoop out as much frosting as you'd like from your tub into a small bowl and add in as much of the PEEPS mixture as you'd like. Keep adjusting the ratio of PEEPS mixture to frosting until you're satisfied with the resulting frosting's flavor.
Add food coloring to resulting frosting if you'd like your frosting color to be brighter.
Spread frosting onto cooled bars (either before or after slicing) and serve.

Last call for our cake server giveaway!

We're giving away a gorgeous and easy-to-use Magisso Cake Server to five lucky winners! This cake server not only serves cake, but you also use it to cut slices as well! In one smooth action, you can cut a slice of cake and transfer it to a plate without worrying about making a mess or having the slice topple over on you!

The deadline to enter our giveaway is this Sunday, April 20th (also known as Easter), so be sure to enter daily for your chance to win!


How do you enjoy your PEEPS? Do you eat them right out of the package or do you like baking with them?

Latest posts by TheBestDessertRecipes

(see all)