Print This Post
Egg noodles are perfect when paired with ground beef – that's for certain. Growing up in the Midwest, my mom would serve a variety of egg noodle and ground beef dishes. It isn't hard to change up the flavor with a ground beef recipe, and egg noodles typically do a good job of blending in. That's why ground beef casseroles with egg noodles are such a common weeknight dinner.
If you're looking for your 'forever' recipe, give this easy casserole recipe a try. New from our test kitchen, this Easy Ground Beef Stroganoff Casserole serves six people. This ground beef recipe is reliable and soon you'll be making it on a weekly basis. It's good for any season, and kids enjoy it, too! It's like a much, much better version of Hamburger Helper. Give your weeknight dinners an upgrade!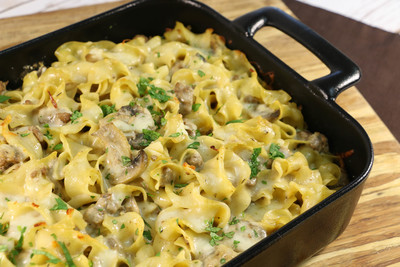 The sauce is what makes this recipe really stand out. Made from a combination of sour cream, beef broth and tomato taste, the flavor could not be any more comforting. This easy casserole recipe truly stands out with its secret ingredient, Mozzerella cheese, which gives it wonderful texture.
To give this amazing recipe a try, get the full recipe AllFreeCasseroleRecipes.com.
Check out more of our test kitchen recipes:
What's a great side dish for beef stroganoff?
AllFreeCasseroleRecipes is dedicated to easy casserole recipes, cooking tips, and articles on cooking. From chicken casserole recipes to ground beef casseroles, we find and deliver the best casserole recipes from all over the web. Plus, we feature free product reviews and giveaways of all the latest and greatest products including cookware, cooking gadgets, cookbooks, food, and more. AllFreeCasseroleRecipes is a wonderful online resource for cooks of all skill levels.
Latest posts by AllFreeCasseroleRecipes (see all)
Print This Post