I'm a big, big fan of no-bake desserts. They've been huge life savers for me on more than one occasion because they're typically pretty fast and easy to prepare, and many of them require just a few simple ingredients to whip up. None of those fancy cake recipes that require tons of ingredients you can hardly pronounce, let alone find at your local grocery store. The desserts that I like to make are the ones that I can make without having to pay too much attention, the ones that literally can be tossed together and then gobbled up. After all, that's the whole point of making a dessert in the first place, isn't it?  Eating it and enjoying the sugar rush!
So when I recently came across this recipe called No-Bake White Trash Candy, I was excited because A) it has that magical phrase, "no-bake" in its title, and B) "White Trash Candy"?… whatever could that mean?  I was intrigued, to say the least.
I took a look at the ingredients list… chocolate chips, peanut butter, peanuts, raisins, cereal and powdered sugar… sounded a lot like that yummy snack, Puppy Chow, that I grew up noshing on at countless slumber parties.  With my nostalgia, and my sweet tooth, both going  full force, I knew I had to make this recipe.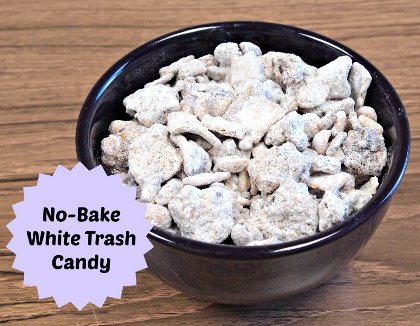 First I rounded up my ingredients. Like I said, all simple stuff, found at my local grocery store: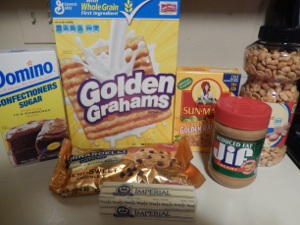 Next I melted the butter, chocolate chips and peanut butter on my stove top. Simple enough, and didn't take long at all for the mixture to melt down to an easily stir-able form…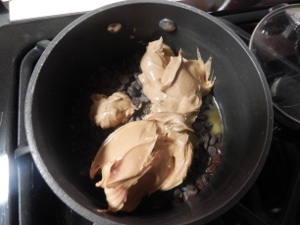 If there was one "hard" part of this recipe, it was this next step. In all honesty, it really wasn't difficult at all, but it did take some muscle… I had to recruit my husband to do some of the stirring once my arm got tired. Basically you just dump in the rest of the listed ingredients, minus the powdered sugar. So that includes an entire box of Golden Grahams cereal, a box of raisins and three cups of peanuts. That's a lot of mixture that all needs to get stirred together until everything is nice and evenly coated in the peanut butter/chocolate mixture from earlier.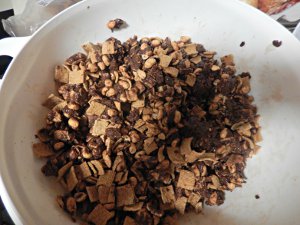 See what I mean about needing some muscle?  Think of it as your workout for the day!
The last step is my favorite. You take the entire box of powdered sugar and dump it in the bowl. The instructions say to use two forks to stir everything together gently until the mixture is evenly coated with the powdered sugar, but I think using your hands is fine… and more fun! Basically you just want to make sure that your snack mix or "candy" is white all over so that you get a nice burst of sugar with each and every bite!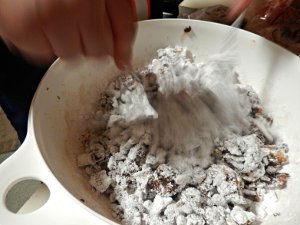 In the end, your "White Trash Candy" will end up looking like a trail mix with some larger clumps and some smaller bits. Store your mixture in a large, airtight container (or several smaller containers, if you'd rather) while allowing it to cool. You can keep it in the fridge or even the freezer if you're making this recipe well ahead of time.
This is the perfect game day snack to put out if you're having people over to watch football on Sunday, or a great quick fix recipe to prepare if you're having a last-minute party and need a snack to serve. Or, if you're like me and just have a huge sweet tooth, this is an awesome dessert recipe to just have on-hand for whenever you need to get that sugar fix.
When would you serve this No-Bake White Trash Candy?
Latest posts by RecipeLion
(see all)