Merry Christmas Eve Eve! As the holidays are upon us, we're sure that you're already planning and then re-planning the menu for the upcoming festivities. As you try and include dishes that everyone in the family will love and enjoy, allow us to make a small suggestion. Our recipe for No Bake Cookie Dough Balls can easily be added to any Christmas line-up. First, because they're a no bake miracle sent to you straight from the man in the big red suit himself. Or Mrs. Claus, if you prefer. Instead of organizing time to bake this sweet treat in the oven, all you have to do is clear out some shelf space in your freezer.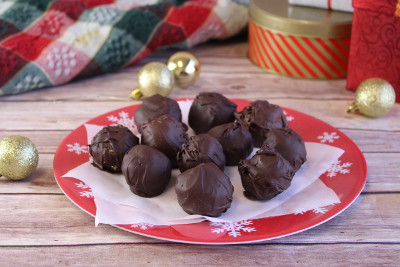 Secondly, these no bake balls can easily be made with ingredients that are already sitting in your kitchen. There's no need to frantically run to the store and buy new ingredients to whip up these babies. And lastly, this dessert is naturally gluten free and it tastes AMAZING. We're not messing around here. These No Bake Cookie Dough Balls are addictive, and you should proceed with caution if you're the type of person to let your sweet tooth take over your own good sense (hint: that's exactly the type of people we are).
So be sure to add these delightful little treats to your Christmas menu. Your family and friends will adore them, as these no bake balls are guaranteed to help spread good will and Christmas cheer throughout the land (well, maybe not the entire land. But definitely throughout your kitchen.)
Here's What You'll Need:
1/3 cup butter, softened
1/3 cup brown sugar
1 tablespoon vanilla extract
1 cup gluten free all-purpose flour (we used Bob's Red Mill)
1 1/2 cup semi-sweet chocolate chips
And Here's How To Make Them:
Line a baking sheet or large plate with waxed paper and set aside.
In a mixing bowl, beat the butter, brown sugar, and vanilla together until combined. Slowly beat in the flour until well-combined. Pour in 1/2 cup of chocolate chips and mix into the dough.
Shape the dough into round balls, approximately 1 inch in diameter. Place the cookie dough balls on the baking sheet or plate. Let chill in the freezer for at least 30 minutes.
While the cookie dough balls are chilling, melt 1 cup of chocolate chips. You can melt the chocolate on the stove top on medium-high heat, or in the microwave at 50% power for 30 second intervals.
Cover the cookie dough balls in chocolate, and then place back in the freezer for at least ten minutes. Enjoy!
For a healthier option, substitute the ingredients listed above for these ingredients:
1 1/4 cup of gluten free all-purpose flour
1/4 teaspoon salt
1/4 cup of honey
1/4 cup of coconut oil
1 1/2 teaspoon vanilla extract
Latest posts by FaveGlutenFreeRecipes
(see all)