By now, it's pretty much a universal fact that the next best thing to baked goods are no-bake dessert recipes. In fact, they may even eclipse baked treats like cakes, cupcakes, and brownies. The jury's still out on that one.
Now, I know what some of you might be thinking and, yes, the idea of no-bake cookies and dessert bars sounds a bit weird. I mean, who doesn't love a soft, warm cookie after a long day? I'm definitely a sucker for those.
However, I'm a big fan of lazy recipes where I don't have to do much to make something delicious. It's my Achilles heel. Seriously. If given a choice between a super delicious treat that takes about an hour to make and an average sweet that takes only 10 minutes, I'm totally going for the latter. Without a doubt.
That's where no-bake cookies and other treats come in: They're the absolute best of both worlds. They take practically zero effort to put together and yet are super delicious. I'm not kidding. Try any recipe for no-bake cookies that I've listed below and you'll see exactly what I mean. #TeamNoBakeDesserts4eva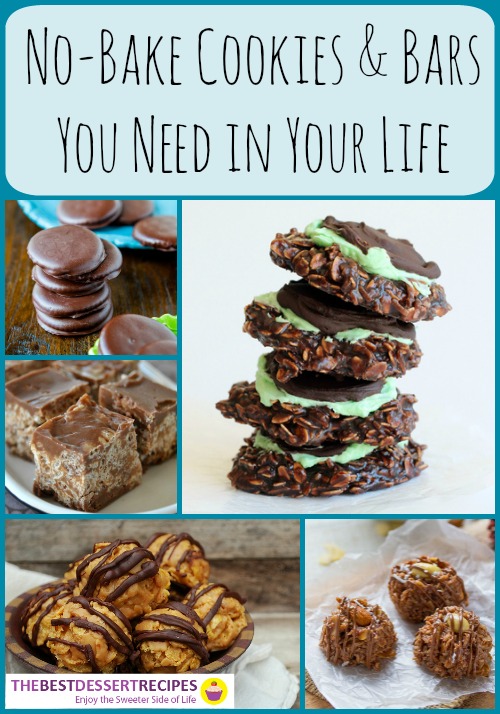 No-Bake Cookie Recipes
Fudgy Mint Chocolate No Bake Cookies
Oven-less Peanut Butter Oatmeal Cookies
Copycat Thin Mint No Bake Cookies
Bakeless Cookie Butter Cookies
No Bake Coconut Oat Chocolate Cookies
Reeses Krispie No Bake Cookies
HolyCrapTheseAreAmazing Cookies – The name really says it all, doesn't it?
Chocolate Peanut Butter No Bake Cookie Bites
Samoa No Bake Cookies
No Bake Almond Joy Cookies
Mississippi Mud Cookies
No Bake Cookies with Double Espresso
Eskimo Snowballs
No-Bake Dessert Bar Recipes
No-Bake Pudding Bars
Homemade Kit Kat Bites
Luscious No-Bake Lemon Cheesecake Bars
No-Bake Chewy Oreo Bars
No-Bake Chocolate Chip Cookie Treats
Fudgy No Bake Brownies – Not only is this possible, it's delicious too!
Chocolate Caramel Rice Krispie Treats
Simply Sweet Scotcheroos
No Bake Peanut Butter Corn Flake Bars
Can't get enough no-bake cookies and other bakeless desserts? Check out our "Great No Bake Dessert Recipes" board on Pinterest and have at it!
Follow The Best Dessert Recipes's board Great No Bake Dessert Recipes on Pinterest.
What's your favorite kind of no-bake dessert? (Cookies, bars, Oreo balls, etc.)
Related: No Bake Desserts: 19 No Bake Dessert Recipes Free eCookbook
Latest posts by TheBestDessertRecipes
(see all)