Look, teachers are just as nervous and excited about the new school year as the students. In fact, they've also been slightly dreading the first day of school because it means the end of summer. Teacher friends on Facebook have been sharing posters that say things like "August is like one long Sunday evening," so I know this to be true. You can make that first Monday feel like the last Friday with some no-bake dessert recipes.
Imagine you're a new teacher on your first day back – would you remember to pack yourself a treat? I wouldn't. They have to worry about absorbing all those new faces and names, and provide a structured day for the students. Whoa, pressure! Chocolate helps pressure. Vanilla helps pressure, too. In fact, all desserts help alleviate pressure with the sweetest burst of sugary energy. It's probably science. (I'm not sure, so you can check with a teacher on the science bit.)
To show your students' teachers some compassion, send your kid in with a lovely homemade dessert on the first day of school. This is TOTALLY not "buttering up" the teacher. It's sweetening them up to your shining model student. Plus, it will make their day, and it's always appropriate to show someone kindness. You can include a note that they can share the goods in the teacher's lounge – paying it forward.
Now, you're probably thinking, "I just spent a gazillion dollars on school supplies. I don't have the money or energy to bake!" Well, I have already considered that, and let me give you a tip. The other day I made No-Bake Oreo Balls. They cost under $10 in ingredients, and I made them in about an hour on a Sunday afternoon. You can literally wait until the last minute for these recipes! No-bake desserts are a procrastinator's (or just a busy person's) delight.
Here's our collection of A+ no-bake dessert recipes from TheBestDessertRecipes.com.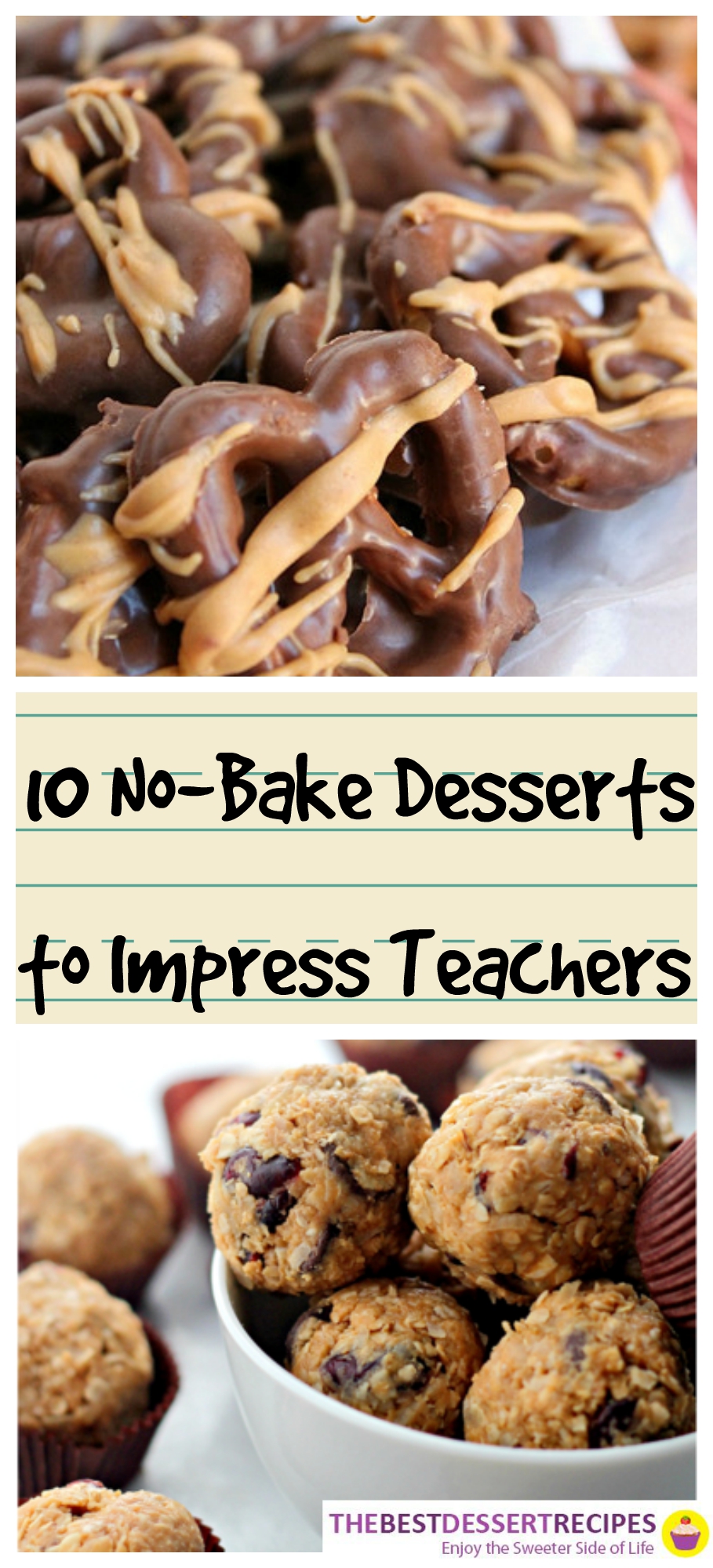 10 No-Bake Desserts to Impress Teachers
An apple a day is WAY too many apples, right?
Latest posts by TheBestDessertRecipes
(see all)