Who doesn't love Italian food? It's just so comforting and delicious. It's basically a hug in food form. My boyfriend's family is Italian and his mom has a famous eggplant Parmesan recipe. It's just so good that the dish is clean by the time dinner is over. No one can get enough of the famous eggplant parm.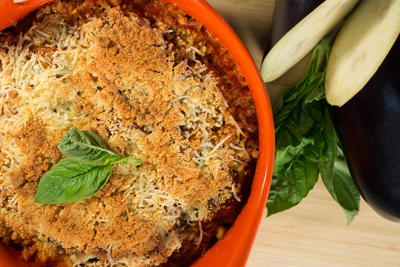 But Italian food can be really heavy and I always feel sleepy afterward (maybe I shouldn't fill up on bread beforehand too 

). That's why I love this lightened up version of a classic Italian dish: Not-Your-Mama's Eggplant Parmesan Recipe! This healthy casserole recipe is the perfect thing to make for a potluck or for a busy weeknight dinner.
Ingredients
1 cup quinoa
2 1/2 teaspoons salt, divided
1 pound eggplant
1 tablespoon olive oil
2 cloves garlic, finely minced
1 (28-ounce) can tomato sauce
2 tablespoons chopped fresh basil leaves
1 teaspoon salt
1/2 teaspoon red pepper flakes
1/2 teaspoon ground black pepper
1 cup grated Parmesan cheese, divided
1/2 cup grated Romano cheese
Basil leaves for garnish
Instructions:
Preheat oven to 275 degrees F. Spray a 2 quart baking dish with cooking spray.
In a small saucepan, bring the quinoa plus 2 cups water and 1 teaspoon salt to a boil. Lower heat, cover, and simmer on low for 20 minutes until quinoa is cooked and water is absorbed.
In a large bowl, place about 5 cups room temperature water and 1 teaspoon salt, stirring until the salt dissolves.
Cut unpeeled eggplant into 1-inch cubes. Put the cubes into the bowl of water and let it sit 20 minutes. Drain and wrap eggplant in a kitchen towel and gently squeeze to remove all excess water.
In a 12-inch non-stick skillet over medium-high heat, place the oil and saute the onion for about 4 minutes until it is translucent. Add the garlic and cook, stirring, 1 more minute.
Add the eggplant cubes and cook, stirring frequently, for about 10 minutes until the eggplant begins to brown slightly. Add tomato sauce, basil, and 1/2 teaspoon salt and lower the heat to low. Cover and cook 25 minutes.
When the quinoa is cooked, heat a second non-stick skillet over medium heat and stir the quinoa in it for two minutes, adding the red pepper flakes and black pepper and tossing well.
Add the quinoa to the tomato sauce in the skillet and stir in 1/2 cup of the Parmesan cheese. Pour into the prepared baking dish and top with the Romano and then the remaining Parmesan cheese. Bake 25 to 30 minutes. Garnish with fresh basil leaves.
Latest posts by FaveHealthyRecipes
(see all)