Hi there! Holly here from Club Crafted again with a recipe that will make all of your Nutella dreams come true. In my opinion, Nutella brownies are actually better than traditional brownies, especially this extra fudgy recipe.
As a Nutella lover, I wanted to make sure you could truly taste the hazelnut in these brownies because chocolate can very easily overpower it, which is why I try to add a hefty amount of Nutella. The hazelnut flavor is still very light, but the Nutella spread keeps the brownies incredibly moist and fudgy. You'll probably want to eat nothing but brownies for days!
Ingredients:
1 ½ cups semisweet chocolate chips
¾ cup butter, melted
1 ¼ cups granulated sugar
½ cup Nutella
3 eggs
1 tsp vanilla extract
¾ cup all-purpose flour
¼ cup natural unsweetened cocoa powder
¼ teaspoon salt
Instructions:
Preheat the oven to 350 degrees. Line a square baking pan (9×9 or 8×8) with parchment or foil and spray lightly with cooking spray.
In one bowl, whisk together the flour, cocoa powder, and salt and set aside.
In the microwave or on the stove, melt the butter and chocolate chips together on low heat. Once melted, remove from heat and stir in Nutella. Set aside to cool.
In the bowl of your mixer fitted with a whisk attachment, beat the eggs and sugar together for about 2 minutes until thick. Add the cooled chocolate mixture and vanilla, mixing until just combined.
Use a spatula to fold in the dry ingredients and mix lightly until a small amount of white still remains. Do not overmix. If desired, mix in chopped nuts or other additives.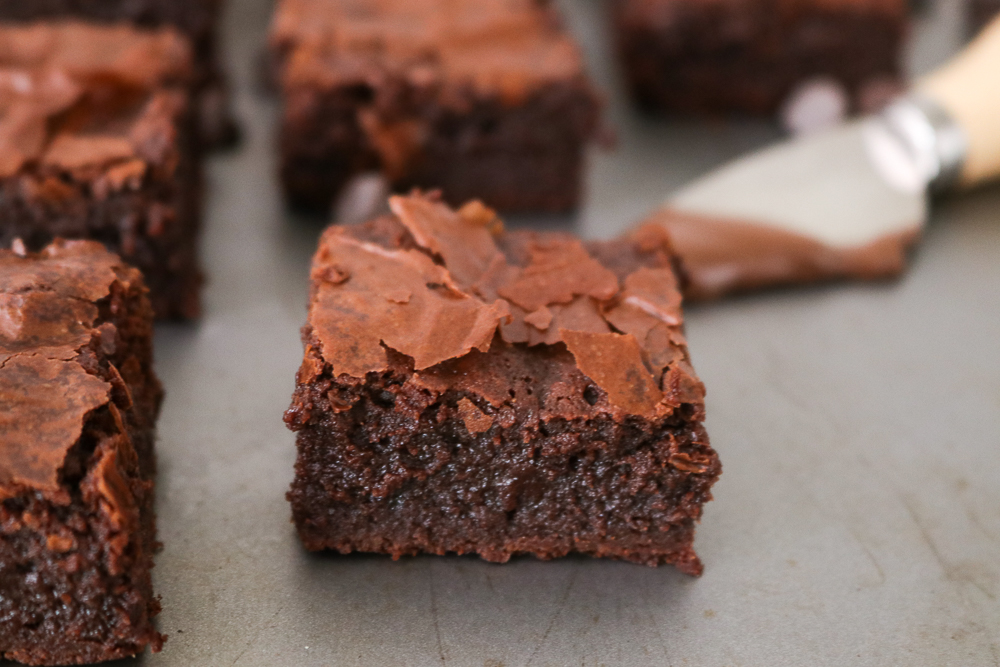 Move the batter to the prepared pan and bake for about 35 minutes until a toothpick inserted into the middle comes out with only crumbs, no liquid batter. Let cool completely before pulling the brownies out by the parchment, cutting into squares and serving, preferably with a scoop of ice cream (but I love anything with a scoop of ice cream).
These super fudgy Nutella brownies will go down as one of your favorite recipes!
What is your favorite brownie recipe? Let us know below in the comments!
Latest posts by Holly Wade
(see all)