With summer heating up, no-bake desserts sound like paradise right about now. You get the best of both worlds with desserts that you don't have to turn on the oven for because you're able to get your sweet fix without heating up the house! While AllFreeCasseroleRecipes is known for its cheesy baked casseroles, we like our no-bake recipes every now and then, especially in this hot weather. For your eating pleasure, we've rounded up the tastiest and most unique fudge recipes that are 100 percent oven-free!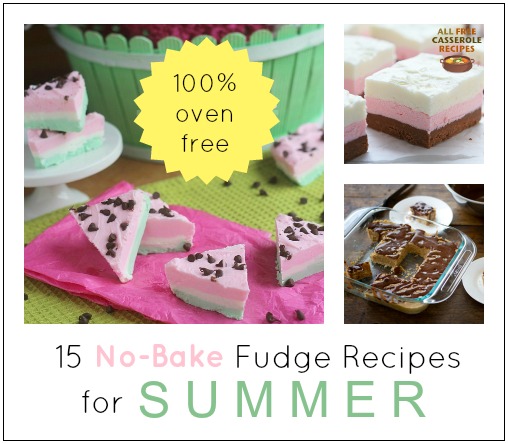 Fudge has been everywhere lately because it's delicious and so easy to make. These recipes don't require an oven and some don't even require the stove. It couldn't get any easier. Plus, we love all of the fun fruity flavors that scream summer, like watermelon, orange creamsicle, and pina colada. Of course, we have the rich and creamy chocolate variations as well!
Don't forget to treat teachers and other helpers in your life with these giftable No-Bake Dessert Recipes.
Whatever mood you're in and whatever you're craving, one of these fudge recipes is calling your name. The hard part will be choosing which one to make! So, you should probably just make them all.
15 No-Bake Fudge Recipes for Summer




1. Watermelon Fudge
2. Peanut Butter Choc. Chip Freezer Fudge
3. Peanut Butter Banana Fudge




4. 10-Minute Peanut Butter Fudge
5. Neapolitan Fudge
6. Dreamy Orange Creamsicle Fudge




7. Super Easy Chocolate Fudge
8. Funfetti Cake Batter Fudge
9. I Can't Believe It's Not Peach Pie Fudge




10. Tropical Pina Colada Fudge
11. Chocolate Chip Cookie Dough Fudge
12. Strawberry Shortcake Fudge



13. 5-Minute Cookies and Cream Fudge
14. Snickers Fudge
15.  S'mores Fudge from Love from the Oven
If you're feeling particularly scared of eating the entire pan of fudge, share the love! These recipes would be great to make for a party or social event. Whether you're pressed for time and need a quick dish to pass or you're just feeling lazy, fudge is the perfect choice. No one has to know that you spent basically zero time making a dessert – they'll be too busy enjoying the amazing flavors and complimenting you on your excellent baking skills. Go ahead and bask in the glory. You deserve it.
Which fudge recipe are you going to make?
Latest posts by AllFreeCasseroleRecipes
(see all)