My grandma makes the best lemon squares I've ever had. And cowboy caviar. And vegetable soup. Okay, I think it's safe to say she's just pretty darn good at cooking and baking everything! Little Old Lady Recipes are those recipes that have been in the family for years – the tried and true classics that you never grow tired of. If you're looking for the perfect source of old-fashioned dessert recipes, ask your grandma! There's nothing better than old recipes from your childhood like pie and cake because they're simple and comforting. You simply can't go wrong with Grandma's favorite recipes because, when it comes to old-fashioned desserts, little old ladies know best!
Here are 8 of Grandma's favorite old-fashioned desserts that you have got to try (and keep in your recipe box).
Old-Fashioned Desserts for Summer
Some old-fashioned desserts are best enjoyed during summer time when you're in need of a sweet, refreshing treat. Little old lady recipes for summer desserts are super simple and hit the spot every time.
Martha's Blueberry Crisp (shown, left) – Classic blueberry cobbler is one of the best old-fashioned desserts out there. It's always sweet, crumbly, and delicious.
Old-Fashioned Lemon Icebox Pie (shown, right) – This recipe is found anywhere from the label of a can of condensed milk to a little old lady's recipe book!
Grandma Polly's Pink Stuff – You could call this Jello mold, but where's the fun in that? Grandma Polly sure does love her pink stuff, and you will too.
Little Old Lady Cake Recipes
Cake recipes are great for entertaining, and these are some of Grandma's favorite cakes for any occasion. Bake it, glaze it, and gobble it up!
Two Egg Vintage Broiler Cake (shown. left) – When it comes to old-fashioned desserts, what's better than this moist, buttery coffee cake on steroids? Answer: not much.
Vintage Italian Apple Cake (shown, right) – Italian dessert recipes are good enough on their own, but vintage Italian dessert recipes with apple take the cake.
Vintage German Bee Sting Cake – Old-fashioned desserts are especially popular in German-speaking countries. Deliciously moist cake is topped with a sweet coconut frosting in this recipe.
Old-Fashioned Recipes for Pie
Of all the old-fashioned desserts, pies might be the most classic treat of them all. These vintage pie recipes will bring you way back. Grandma called… she wants you to have these 10 easy pie recipes.
Shoo Fly Pie (shown, left) – Old-fashioned desserts don't get much more classic than shoo fly pie. This is one of grandma's recipes made with molasses.
Old-Fashioned Pecan Pie Bars – It's all the flavors of your favorite pecan pie, but in the form of portable bars. These old-fashioned desserts are made with classic baking ingredients.
Old German Cream Pie – Just 4 ingredients make this pie filling, which is classified under one of the most crowd-pleasing old-fashioned desserts.
Want to peek further into Grandma's recipe box? Check out these Vintage Meals from Yesteryear: 22 Old-Fashioned Recipes for any palate.
BONUS!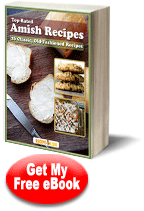 Get your FREE eCookbook Top Rated Amish Recipes, 26 Classic Recipes
The Best of the 1950s: Vintage-Inspired Slow Cooker Recipes for Your Kitchen Today
What is our favorite family heirloom recipe? Tell us in the comments below.
Latest posts by RecipeLion
(see all)