Making your own dressing at home is extremely easy, cost effective, and of course, tasty! There are a few restaurants across the country that are world-famous for their dressings and we know all their secrets here at AllFreeCopycatRecipes.com. Whether you like your dressings creamy or lite, there is a homemade dressing recipe for you. Olive Garden's dressing is one of the most well-known of all the restaurant dressings. The creamy Italian dressing goes perfectly with almost any salad. It takes just a few minutes to whip up the dressing and you will be so happy with the results. Check out our 5 tips and tricks below to learn more about making homemade dressing recipes.
Olive Garden Copycat House Dressing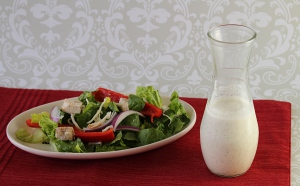 Ingredients
1/2 cup mayonnaise
1/3 cup white vinegar
1 teaspoon vegetable oil
2 tablespoons corn syrup
2 tablespoons Parmesan cheese
2 tablespoons Romano cheese
1/4 teaspoon garlic powder
1/4 teaspoon Italian seasoning
1/2 teaspoon parsley flakes
1 tablespoon lemon juice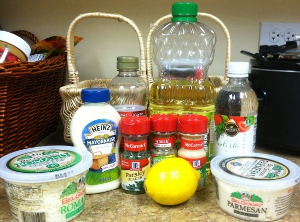 Instructions
Place all the ingredients in a blender and mix well. Place in a container and keep refrigerated for up to a week.
5 Tips and Tricks for Making Homemade Dressing
For a creamier dressing, like this Olive Garden House Dressing Knockoff I recommend using a blender to quickly whip the ingredients together. This way you won't have any displeasing chunks of mayonnaise.
The standard ratio for a vinaigrette is 1 part vinegar to 3 parts oil. Follow the ratio and you can experiment with flavored vinaigrette.
Vinaigrette doubles as an excellent marinade. This Olive Garden copycat makes a particularly yummy one!
Most homemade dressings can be kept in the refrigerator up to a week.
When preparing a dressing for later, let it stand for 1 to 3 hours in order to let the flavors meld and develop.
What's Your Favorite Dressing?
Latest posts by AllFreeCopycatRecipes
(see all)