Bite size desserts are perfect for entertaining, giving away as gifts, or even to include in your Christmas cookie exchange. These one-bite delights are adorable miniature desserts that are easy to make and super delicious. From homemade candy recipes, to cookie balls, to muffin tin desserts, and more! Make these bite size desserts next time you want a crowd-pleasing treat people won't be able to resist.
If you're not careful, you'll want to eat an entire batch of these bite size desserts as soon as they're done! They're all super delicious and are great for when you just want a little something sweet. Plus, some of these mini dessert recipes only require a few ingredients, so making them is a breeze. They look great when served on a plate at a party or packed into holiday goodie bags.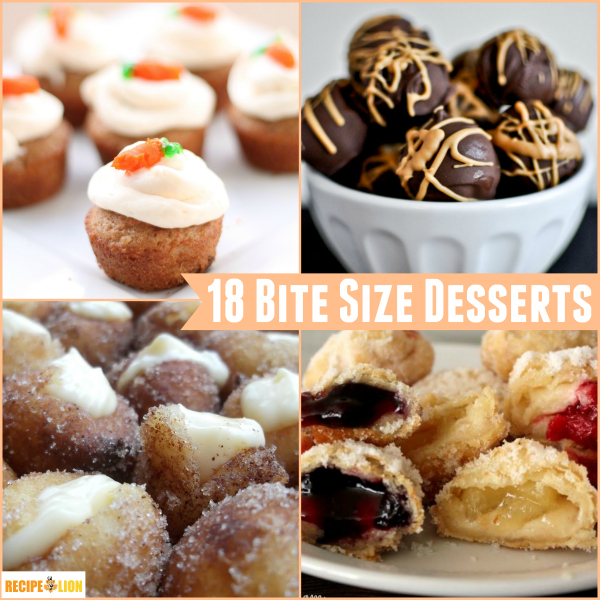 Take your favorite desserts like snickerdoodles, carrot cake, pie, and churros and turn them into one-bite delights! You definitely won't regret it, and everyone will be raving about how cute and delicious these bite size desserts are.
One-Bite Delights: 18 Bite Size Desserts
Snickerdoodle Poppers (shown)
Fried Apple Pie Bites (shown)
Better Than Krispy Kreme Glazed Doughnut Bites
Crispy Chocolate Peanut Butter Cookie Dough Truffles
Angel Food Cake Churro Bites (shown)
Bite Size Carrot Cakes (shown)
2-Ingredient Chinese Restaurant Doughnuts
Caramel Creme Cinnamon Puffles
Apple Cinnamon Muffin Tin Donuts
Which one of these do you want to try first?
Latest posts by RecipeLion
(see all)