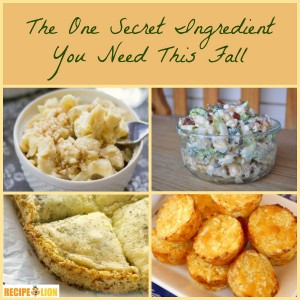 At first, you might be skeptical that there's just one secret ingredient out there that's perfect for all fall dishes. But, after you read all about it, you'll definitely be convinced! You're going to love the versatility of this ingredient. It can actually replace at least three different starches that are almost certainly part of your diet: potatoes, rice, and bread, among others. Yet, surprisingly, it's not a grain – it's a vegetable! "What is the amazing wonder-veggie?" you may ask. The answer is so simple that you'll never believe it. And the secret ingredient is (drumroll)…
Cauliflower! Yes, that innocuous white vegetable that you always ignored for more exciting foods on your plate when you were a kid is now your favorite ingredient for side dishes and meals. You're not going to believe what you can make with this one simple ingredient: mashed "potatoes," cauli-tots (like tater tots, but with cauliflower), cauliflower rice, and even a cauliflower pizza crust.
Don't worry if cauliflower isn't your favorite. These recipes really play up the mild flavor of cauliflower with cheese, other vegetables, and delicious sauces, so you're guaranteed to like the flavor of these recipes. All of these recipes are vegetarian and several are gluten-free, so you can appeal to everyone in your family. Go crazy for cauliflower with these wonderful recipes!
Snacks and Side Dish Recipes with Cauliflower
Baked Buffalo Cauliflower Dip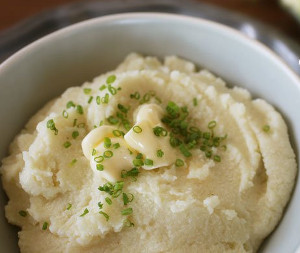 – This dip is a fantastic party starter. Your guests will never guess that they're eating a vegetable dip!
Baked Cauli-Tots – Cauliflower Tots are a great healthy substitute for traditional tater tots. They are packed with cheese and full of flavor.
Cauliflower Popcorn – Who knew that cauliflower could make a great snack? This popcorn-like treat is perfect for mid-afternoon munching.
Creamy Cauliflower Mash (shown) – This recipe tastes just like your favorite mashed potatoes, but even creamier. This is a perfect side dish for Thanksgiving or even just a family dinner.
Amish Broccoli Salad – This broccoli salad isn't complete without the additional crunch of cauliflower. You'll want to add cauliflower to all of your broccoli salads after trying this recipe!
Cilantro Lime Cauliflower Rice from House of Yumm – This is the perfect recipe to use for all of your Mexican food. Burritos will taste way better with cauliflower rice.
Buffalo Cauliflower from Persnickety Plates – Instead of hot wings, make this budget-friendly cauliflower option! It's a cheaper, vegetarian way to enjoy buffalo wings!
Easy Meal Ideas with Cauliflower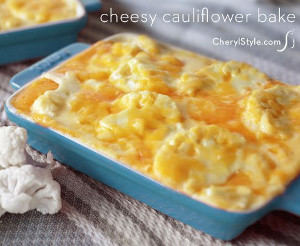 Slow Cooker Pizza with Cauliflower Crust – This deep-dish pizza recipe will blow all other pizza recipes out of the water. Plus, since it's a slow cooker recipe, it's super easy!
Secret Ingredient Macaroni and Cheese – This macaroni and cheese recipe is truly one of a kind. You're going to love all of the unusual flavor combinations in this dish.
Cheesy Cauliflower Bake (shown) – This is a classic cauliflower recipe that can be served as a main dish or a side. The cheese and cauliflower combination makes for amazing comfort food.
What's your favorite cauliflower recipe?
Latest posts by RecipeLion
(see all)