Real talk. How often did you have this silent conversation with yourself last year?

Man, I really need to organize this cabinet.
I can't find a single thing I need for this recipe!
Ugh, when was the last time I used that?
Is this a lid of some sort?
I should re-arrange everything in here this weekend.
Yep, I'm going to do it!

Your organization method in the past… Cute, but not too effective.
But, dear friend, you never did it. Don't be hard on yourself, though. You just never had a plan! You didn't stand a chance against that mountain of containers or the dreaded junk drawer. Not. A. Chance.
Lucky for you, your pals at RecipeLion.com have some ideas to make this The Year of the Organized Kitchen! You can do it. It's actually pretty easy.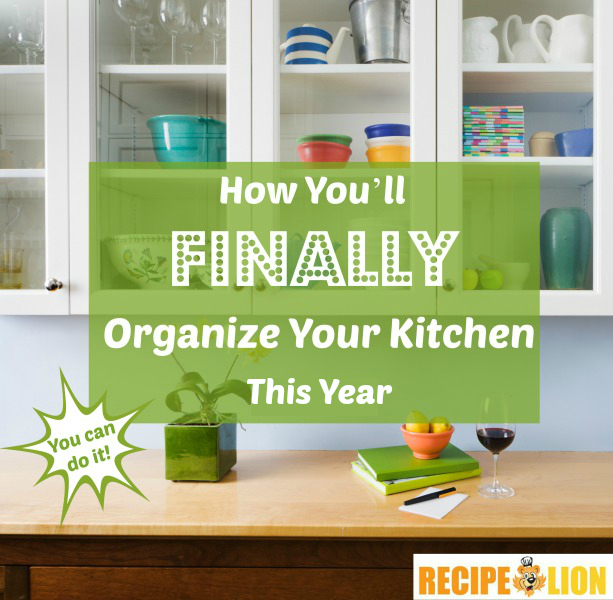 How You'll Finally Organize Your Kitchen
Now, let's take a little organizational tour of your kitchen.
First Stop: The Refrigerator
Eliminate spoilage as well as disorganization with these quick rules to organize your refrigerator. These tips come from our free eBook, The Ultimate Kitchen Guide: How-Tos, Cooking Tips & Essential Kitchen Knowledge.
Top Shelf: Keep clear for chilling cooked and prepared foods, and tomorrow's lunches or items that need to be prepped. Think of this as your fridge's inbox.
Middle Shelf: Eggs. Leftovers in containers.
Bottom Shelf: Dairy (Milk, cottage cheese, sour cream, yogurt.) Deli meats, if you have no deli drawer. Raw meats.
Drawers: You should never mix fruit, vegetables, and deli meats in the same drawer. This can lead to spoilage because these items have different humidity and temperature requirements. Fruit should be kept in a drawer with low humidity, such as the crisper. Vegetables do well in a drawer with higher humidity. Deli meats and cheeses should be kept in their own drawer, which is generally slightly cooler than the rest of the fridge.
Door: Butter, soft cheeses, condiments, pickles, and salsa.
The Ultimate Kitchen Guide: How-Tos, Cooking Tips & Essential Kitchen Knowledge – a free eBook with a whole lotta tips.
Next: Cabinets & Drawers
This is a bit trickier than the refrigerator, because much depends on the layout of your kitchen. But whether your kitchen is big or small, these tips will help you make the best use of your space and stay organized.
1. Empty it out
Sorry folks, there's no way around it. To get organized, you'll need to see what you have. Don't get crazy and empty everything at once; go cabinet by cabinet, drawer by drawer. The longer you've been living there, the more time consuming this will be. Get ready to face down odd kitchen instruments you don't remember buying and parts of gadgets that you can't be sure you need anymore. A good rule of thumb: If you haven't used it the last year, you probably won't miss it.
Count out the number of cabinets and drawers you need to organize, and create a plan for yourself to tackle them. For example, "I'll clean out 2 cabinets this week, and 2 next week."
2. Divide and conquer
It's all about piles, people! Separate your kitchen items into piles that make sense. This will allow you to see duplicates and begin to decide the best way to use your space. Ask yourself tough questions, like "Do I really need five spatulas and three pizza cutters?" Honestly, you know you have a least favorite spatula. Do the right thing and donate it, or toss it if its better days have passed.
3. Contain the containers
If your kitchen is like mine, the worst offender is the containers. After years of keeping old deli containers and the like, you probably have a cabinet that waterfalls lids on you every time you open it. Take a look at your collection and note which ones you've used recently, which ones don't have lids, and which ones are just too odd-sized or odd-shaped to ever be useful. Which ones can be stacked together? Move the larger containers to a high shelf or scoot them to the back, where they won't be in the way. If your collection is truly a mess, you might want to donate most of it and invest in a new, matching set. Hopefully one that has stack-able/attachable lids.
4. Consider some shelving changes
Are your shelves at inconvenient heights? Is the location of your spice rack cramping your style? You may want to put in extra shelves or remove some to optimize your space.
5. Tell people what you're up to

Talk to the people you live with about your re-organization plan. They may have some great ideas or lend a hand. Best of all, if they feel included, they may put some extra effort toward helping it stay organized.
6. Be realistic
Organizing and removing clutter may make cooking easier and help you make the most out of your space. However, what really matters are the meals and memories you share in your kitchen! Don't obsess over making it perfect.
Need more kitchen knowledge? Download our free ebook: The Ultimate Kitchen Guide: How-Tos, Cooking Tips & Essential Kitchen Knowledge. It includes tips from Mr. Food's Test Kitchen!
BONUS: DIY Organization!
Recycle old containers into new organizers to save space in your cabinets and on counters.
1. Soup Can Utensil Holders
2. Water Bottle Supply Organizer
3. DIY Organizer Board – Great for recipe notes!
4. 21 Fantastic Storage Ideas: Maximizing the Space in Your Home
What's a great organizing tip?
Latest posts by RecipeLion
(see all)