Bisquick. That's the topic for today. I hope you're excited, because I am. Now, when I was younger, Bisquick made me think of pancakes and biscuits. Today, I know Bisquick is so much more than that. If you're still in that closed mindset, then prepare to have your eyes opened to the wonderful world of Bisquick.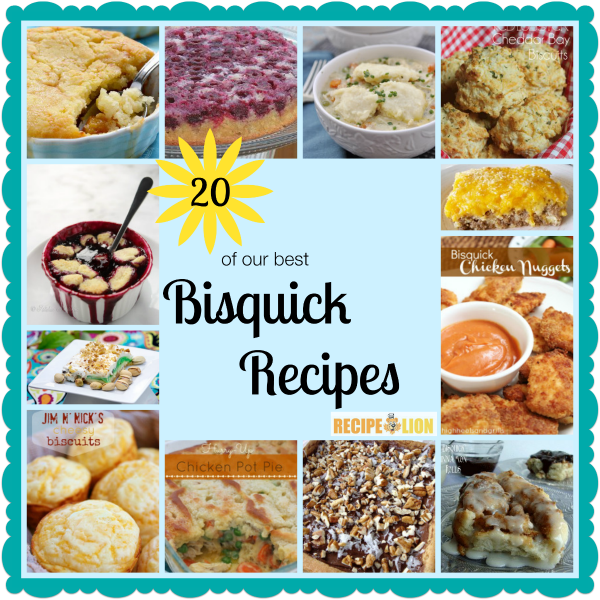 Main Dishes
If you have yet to do so, start using Bisquick in your dinners. I don't mean in biscuits that you serve at dinner. I mean in the main dish itself! Bisquick can be used as a crust, topping, or breading.
Here are some examples:
These mini quiches are adorable. They're made in a muffin tin, so they're the perfect size for an appetizer. Bisquick is the key ingredient in this recipe. You can add ham and cheese, or any other fillings you desire, but you definitely need the Bisquick.
"More Please!" Cheeseburger Casserole
This ground beef casserole is perfect for weeknight dinners because it comes together quickly. The ground beef layer is covered with a Bisquick mixture, which makes the dish more filling.
Lazy Day Bisquick Breaded Pork Chops
I don't know why I haven't thought of using Bisquick for a breading before, but it's a great idea. In this recipe, the pork chops are coated in a Bisquick and saltine cracker mixture before being fried on a skillet. I think it's a great alternative to traditional breadcrumbs.
Desserts
As a dessert lover, I am most excited about using Bisquick in desserts. It's a bit surprising, but it works perfectly. Here are some recipes for you to try:
Extraordinary Bisquick Peach Cobbler
Mmmm…peach cobbler. The warm gooey peaches site underneath fluffy topping. Eat it hot or add ice cream to experience a contrast in temperatures. Either way, this Bisquick peach cobbler is delicious.
These toffee bars are a fun dessert. Bisquick is used in the crust, which is topped with a layer of chocolate, and then a layer of coconut and nuts.
Bisquick Raspberry Upside Down Cake
I know you've heard of pineapple upside-down cake, but have you ever had a raspberry upside-down cake? If you like the classic upside-down cake, then I recommend trying other flavors. The raspberry variety is fantastic!
Other Bisquick desserts to try:
Bisquick Chocolate Chip Cookies from Plain Chicken
Grandma's Company Cookies from Homemaking Hacks
What do you make with Bisquick?
Latest posts by RecipeLion
(see all)