It's a strange world, and people will eat strange things. Before the internet, we didn't know quite how strange food could get. Whether it's one food disguised as another, food made to look like it's not food, or food stuffed in food, things can get pretty wild. How about food that butters itself? In America, we've been known to try some really weird food combinations without blinking an eye.
After all, we're obsessed with basically anything paired with bacon! Recently, #RejectedPairings was a trending hashtag on Twitter, and we couldn't help but think of many of our most popular recipes. Between easy casserole recipes with unidentifiable ingredients and easy dessert recipes that disguise themselves as salads, we've got weird covered.
#MemorialDay and no food. #RejectedPairings

— RecipeLion (@RecipeLion) May 19, 2015
French fries and nothing to dip them in. #RejectedPairings

— RecipeLion (@RecipeLion) May 19, 2015
Ketchup and hot dogs. #RejectedPairings #Chicago

— RecipeLion (@RecipeLion) May 19, 2015
While we had a laugh with these (Seriously, NO KETCHUP), we have to admit that some of our favorite recipes are really bizarre. Take meatloaf, as an example. Meatloaf is not the prettiest recipe – it resembles soggy bread that's gone bad – yet it's a comfort food beloved by many American families.
We've decided to embrace the weird by sharing these amazingly popular yet slightly questionable recipes with you. Note: just because they're weird, doesn't mean they aren't delicious! These are popular for a reason.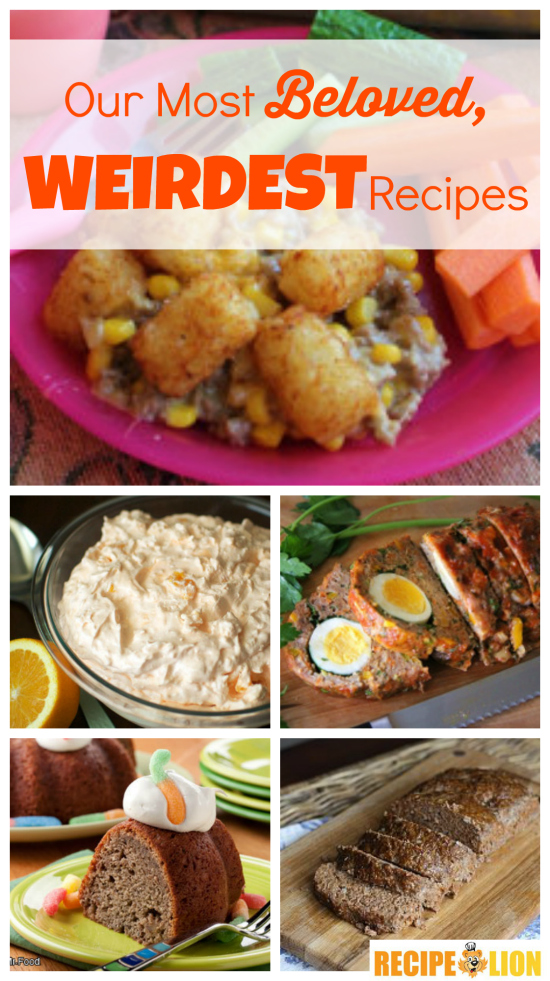 Our Most Beloved, Weirdest Recipes
Weird, Easy Dinner Recipes
Weird, Easy Dessert Recipes
What's the weirdest food you'll admit to loving?
Latest posts by RecipeLion
(see all)