Chicken? Crunchy? Delicious? Healthy? Easy? Yes please!
As a child, one of my favorite things to get when I went out to eat was chicken nuggets. As an adult, not much has changed except that now I call them chicken tenders or chicken fingers. Well, there's just one more thing that's changed. Over the past seven years, I have become more aware of the food I'm eating and how it affects my body. I've always been a fan of traditionally unhealthy foods – things like fried chicken, pizza, and all kinds of desserts (my favorite is either something chocolate or tres leches related). This ultimately made me listless, a little depressed and overweight.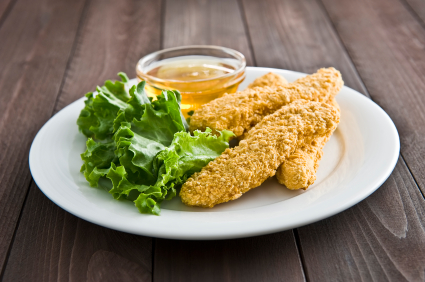 Over the past several years, I've learned how to literally have my cake and eat it too (or in this case, chicken tenders). It's a long story, but basically, I decided to get healthy, cut out the processed things we call food and as a result, I was able to lose 40 pounds and maintain that weight loss for several years (to learn more about me and pick up a FREE gift, click here). Now, I help other people do the same through my products and my coaching services. One of my favorite parts of my business – and actually this is how I started my business – is creating healthy, delicious versions of the unhealthy foods I often craved. I'm one of those people who refuses to compromise on taste…but I also refuse to compromise on using quality ingredients, so I guess I'm not really great at compromising. But in this case, it serves me and my clients well.
Today, I'm going to share with you one of my go-to recipes when I want something savory and fried, but healthy at the same time. I love chicken. And I love when it is crunchy. And I also love things that are easy to make. This is definitely one of those recipes that satisfies all those needs.
I do want to clarify one thing here though – the word "healthy" means different things to different people. To me, it means being happy and eating food that tastes good and is healthy at the same time. That's why for me, making or eating products that are non-GMO, grain-free, gluten-free, dairy-free, free of refined sugars, soy-free, Paleo-friendly, and delicious is super important. I know, I know – if it's all those things, how can it taste good? Trust me, it does. And you will thank me later when you're not feeling bloated and and don't have to worry about working out extra at the gym tomorrow.
Good ingredients truly do make the best food. I recommend using organic, pasture-raised chicken for this recipe if possible – if you aren't able to find something that's both organic and pasture-raised – go for the pasture-raised. People always ask why I would go for the pasture-raised over the organic. This is a great question, but a complicated one if I were to get into all the details. To summarize the answer, I'll say this – happier chickens mean better, healthier, more tender meat.
Chickens that are allowed to walk around the farm, get the exercise they need, and are foraging for their own food are a lot healthier than chickens that are just made to sit in one place and eat organic grain or seeds. Even if you can't get any other part of your meal to be organic or free-range or pasture-raised or whatever, make sure your animal products (meats/eggs/dairy) always are. The animals are treated more humanely, the environment doesn't suffer, and you and your family are getting a much more high-quality product.
If you have any little aspiring chefs around, have them help you out! This is a great recipe for both kids and adults! I find that when you get the kids involved in the cooking, they feel a sense of pride, accomplishment, ownership, and they usually end up eating what they make – so all the better if it's healthy!
Chicken Tenders Recipe

(serves about 4 people)
Ingredients:
1 pound boneless, skinless chicken breasts (organic and pasture-raised preferred)

1 cup blanched almond flour (organic preferred)

1 teaspoon Himalayan pink salt

½ teaspoon freshly ground black pepper

½ teaspoon paprika

¼ teaspoon chili powder (if you want a little spice)

2 eggs (organic, pasture-raised preferred)

4 tablespoons (or more) organic coconut oil or grapeseed oil (for pan frying)

OPTIONAL: If you want to bake your chicken tenders instead of frying them, directions will be below.
Directions:
If baking, preheat the oven to 400 degrees fahrenheit. Line a baking sheet with parchment paper.

If frying, begin heating your pan with oil to a medium to medium-high heat.

Cut your chicken breasts into either strips/tenders or small nugget shapes (if you have little ones, ask them what they prefer).

Break the two eggs in a medium-sized bowl and whisk together.

In a large mixing bowl, combine the almond flour, salt, pepper, paprika, and chili powder (optional). Mix well.

Take a strip of raw chicken, dip it into the egg mixture and let the excess drip off. Then, coat it in the almond flour mixture. Then place the prepared chicken strip on the parchment-lined baking sheet if baking. If frying, set the chicken on a plate on the side.

Repeat with each chicken strip.

Once all the chicken strips have been coated in the egg and almond flour mixture, either bake them in the oven at 400 degrees for about 20-25 minutes or begin frying them on the pan.

To fry, place the prepared chicken strips on the pan and fry in the hot oil for about 3-6 minutes per side, until golden brown. Then transfer to a plate lined with paper-towels. You might have to repeat this process in several batches depending on the size of your pan and the amount of chicken tenders you have.

Serve hot with dipping sauce (recipe below)
Honey Mustard Dipping Sauce recipe

Ingredients:
4 tablespoons dijon mustard

2 tablespoons raw honey, slightly melted (adjust amount to taste – I like a little less)

1.5 teaspoons apple cider vinegar

OPTIONAL: For an extra kick, and even more nutrient density, you can also add 1.5 teaspoons of ginger powder.
Directions:
Combine all the ingredients together in a bowl and mix well.

If you have extra, you can store it in an airtight glass jar in the refrigerator for up to 3 weeks.
What sides would you serve with these?