I am not afraid to admit that I am a Panera Bread addict. I think that I could probably eat Panera all day, every day, for the rest of my life and be happy. After all, they have everything a person could want: delicious soups, crisp salads, soft bagels, the best sandwiches EVER… If/when the (presumably zombie) apocalypse hits, you'll find me at Panera.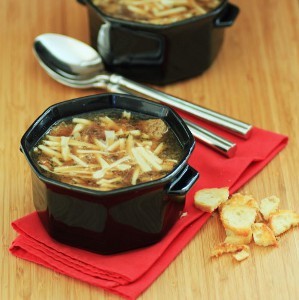 The only drawback to craving Panera Bread all the time is the fact that I'm not made of money, nor do I have a money tree growing in my backyard. I'm assuming you're in the same boat. Well, luckily for us, people who are more skilled than I am at creating and duplicating recipes have come up with Panera copycat recipes. That means that we all can get our hands on easy soup recipes that taste just like Panera Bread's famous soups.
Okay, okay. So you probably already know that Panera copycat recipes exist and you've probably already considered whipping a few up. Then, just allow me to narrow down your choices. The easy soup recipes below are pretty much the best of the best copycat recipes you'll come across. Consider it your new to-do list. You can thank me later.
One day, I hope to make at least one of these easy soup recipes so well that I'll begin to prefer it to Panera's soups. That would make me so proud of myself. Until that time comes, I'll just be making these easy soup recipes for fun on days that I can't make it to Panera Bread for my soup and baguette fix. 😉
1.
Copycat Panera Cream of Chicken and Wild Rice Soup
2.
Panera Bread Broccoli Cheddar Soup Copycat
3.
Copycat Panera Baked Potato Soup
4.
Panera Copycat Creamy Tomato Soup
5.
Homemade Panera Autumn Squash Soup
6.
Copycat Panera Bistro French Onion Soup
7.
Lightened Up Panera-Inspired Broccoli Cheddar Soup
Bonus!
Copycat Panera Mac and Cheese
Other Panera-Inspired Easy Soup Recipes
Panera Bread Copycat Black Bean Soup from Teacher by Day – Chef by Night
Tomato Basil Soup from Garnish & Glaze
Corn and Chicken Chowder with Rye Bread Bowls from Gringalicious
Semi Homemade Chicken Noodle Soup from Sweet C's Designs
What's your favorite Panera soup?
Latest posts by AllFreeCopycatRecipes
(see all)