It is that time of year again. It is Girl Scout cookie time. Every little girl under the age of 13 and her parents are walking around with an order form in their hand asking you to purchase some Girl Scout cookies. I was at a family function last weekend and I was asked on three separate occasions to buy Girl Scout cookies. I encourage you all to help support all the Girl Scouts that you know but if you ever want to make your own Girl Scout cookies at home as opposed to buying them, AllFreeCopycatRecipes.com has tons of recipes for homemade Girl Scout cookies for you.
Thin Mints are hands down the best cookie the Girl Scouts have to offer. The combination of the coolness of the mint combined with the chocolaty crunch of the rest of the cookie is just heavenly. Thin Mints are perfect to crush up into other dishes or best eaten with a warm glass of milk.
If Thin Mints are the clear cut favorite then Somoas are clearly the most underrated of all of the Girl Scout cookies. There are so many flavors that make up the Somoas and they are all blended together to form an incredible tasting cookie. The vanilla combined with the coconut, caramel, and chocolate explode with flavor in your mouth and your can't help but be addicted to them.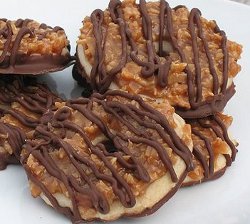 Are you a person whose PB&J sandwich has a disproportional amount more peanut butter than jelly on it? Have you ever eaten peanut butter from a spoon directly out of the jar? If you answered yes to either one of those questions then Do-Si-Do's are the Girl Scout cookies for you. The Girl Scout's version of a peanut butter cookie is just divine.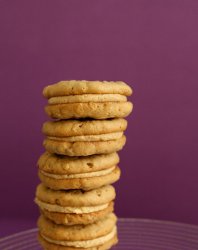 If you want even more recipes for homemade Girl Scout cookies be sure you check out this free eCookbook. 8 Types of Girl Scout Cookies: Your Favorite Girl Scout Cookie Flavors is an incredible eCookbook with more cookie recipes than you can shake a stick at!
What is your favorite Girl Scout cookie?
Latest posts by RecipeLion
(see all)