If you're a fan of Dole Whip at Disney parks… you're in for a treat! For those unfamiliar, Dole Whips are a refreshing treat sold at Walt Disney World and Disneyland. People go absolutely crazy for the soft-served frozen Dole pineapple, swirled perfectly to cool you down on a hot day at the parks. There are even t-shirts available for mega-fans of this distinctly Disneyish dessert.
We've offered up homemade Dole Whip recipes before, and readers go crazy for it. Who doesn't like the idea of making a special treat at home, when they can't make it out to Florida or California? For #PeachWeek, we thought we'd try a new twist on the pineapple dessert. Now you can try a Peach Dole Whip! Thank you, Disney, for the inspiration.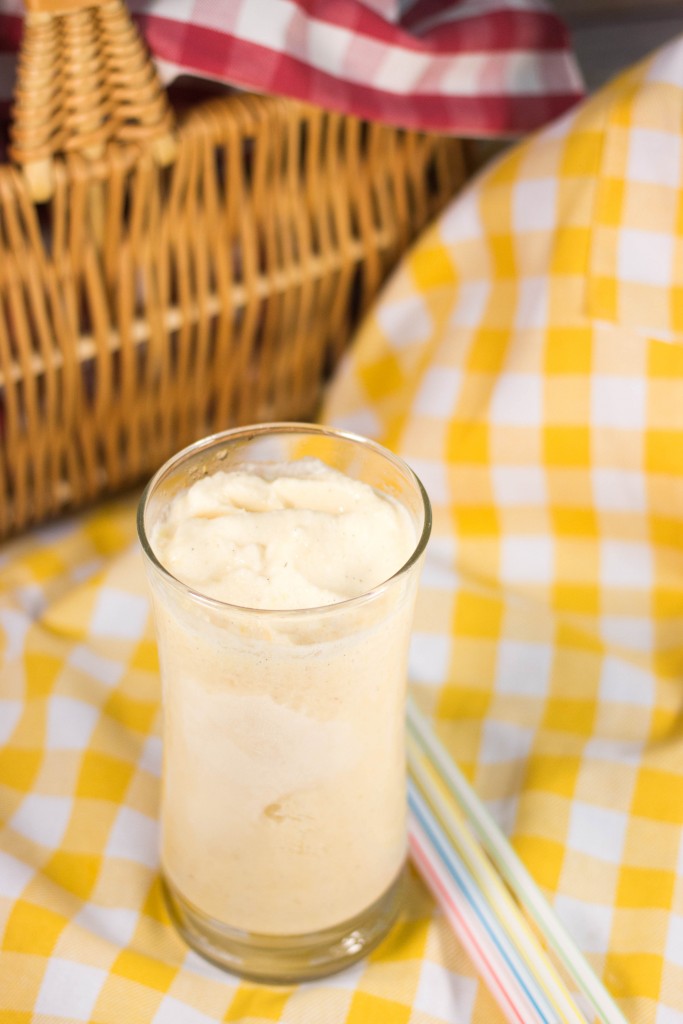 We tried a couple different variations of this recipe before settling on the best way to make this frosty, sweet dessert. The main challenge was deciding what juice would give it the boldest peach flavor. After trying a White Grape Peach juice with this recipe, we found that V8 V-Fusion Peach Mango juice gave our Peach Dole Whip recipe a burst of flavor. The most important part of this recipe is that you must let the Peach Dole Whip freeze a bit. Otherwise, it doesn't have the same consistency as the one in the parks – it's more like a smoothie.
This recipe is just peachy. Check out our video and you'll see how easy it is.
We hope you'll try our twist on this favorite warm-weather treat and tell us what you think!
Homemade Peach Dole Whip Recipe
Prep time:  10 mins
Serves: 2
Ingredients
1/2 (16 oz) bag of frozen peaches (Available in Dole brand)
6 ounces V8 V-Fusion Peach Mango Juice
2 cups vanilla ice cream
1/2 teaspoon lime juice
1/2  teaspoon lemon juice
Instructions
1. Add frozen peaches, ice cream, Peach Mango juice, lime juice, and lemon juice in a blender.
2. Blend on smoothie/whip setting until mixed well.
3. Freeze for about 2 hours.
4. Serve and enjoy!
Are you a Dole Whip fan?
Latest posts by RecipeLion
(see all)