Mason jar recipes are such a cute way to put a new spin on a classic. Take these adorable Peach Pies in a Jar as a prime example! While peaches are in season, make this easy dessert recipe to impress your friends at a potluck, bonfire, or any kind of gathering. Everyone loves having an individualized experience, and these jars are just too adorable to resist.
The best part of these Peach Pies in a Jar is the lattice topping, which really pulls it all together. Doesn't it make you want to dig your spoon into all that peachy goodness? This mason jar recipe might be the most irresistible one I've ever seen.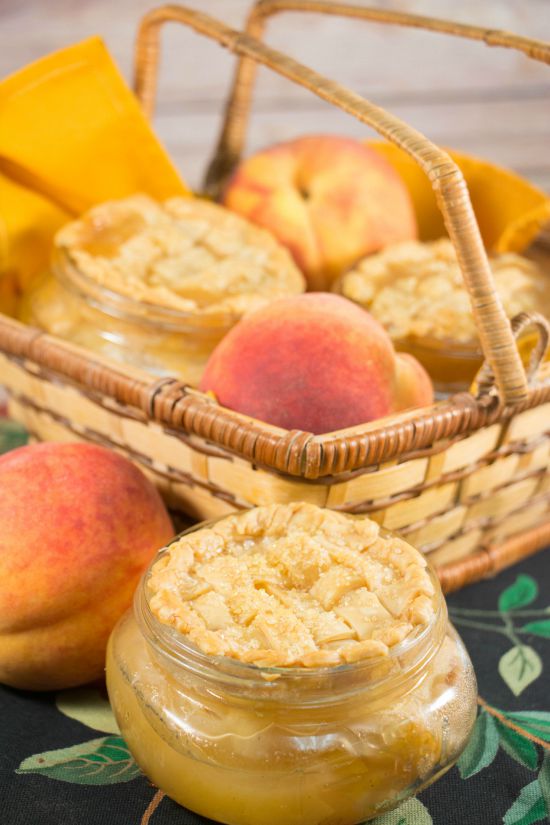 With lightly spiced, gooey wonderfulness inside, this peach dessert recipe fresh from our Test Kitchen is just what you need to celebrate #PeachWeek!
Peach Pies in a Jar Recipe
Makes 4
Fresh fruits vary in the amount of natural sweetness they contain. Taste the ones you have and if they are not totally ripe or simply don't taste sweet, add a bit more sugar.
Cinnamon and a tiny pinch of ground cloves are traditional in peach pies and will work well here instead of the nutmeg if you wish. The almond extract, used very sparingly, works extremely well with peaches, but substitute vanilla if you prefer.
If you don't want to go to the trouble of making a lattice crust – although that is very pretty – simply use a plain circle of dough and cut two small slits in each one to allow steam to escape.
Ingredients:
4 large ripe peaches or nectarines
¼ cup sugar (see note)
1 tablespoon lemon juice
1 tablespoon cornstarch
¼ teaspoon almond extract (see note)
¼ teaspoon nutmeg or cinnamon
pinch of salt
1 double-crust package refrigerated pie crust
1 tablespoon coarse sugar or turbinado sugar for top
Instructions:
Preheat oven to 400 degrees F.
Pit, peel and cut peaches into slices. Place into a medium bowl with the sugar, lemon juice, cornstarch, extract, spice and salt. Stir well and let stand for 10 minutes, tossing from time to time.
Prepare four wide-mouth canning jars: Unroll one pie crust from its wrapper and cut into quarters. Fit one quarter into each jar, using your fingers or the handle of a wooden spoon to gently press into the bottom and up the sides of the jar.
Unroll the second crust on a work surface. Press a jar lid gently into the crust to mark into 4 circles the size of the jar opening. Cut out each circle and then cut them into narrow strips.
Spoon the peaches into the jars using a slotted spoon and shaking the jar to fit them in evenly. Spoon most of the juices into the jars on top of the peaches, reserving about 2 tablespoons.
Make a basket-weave top using the narrow strips of dough on each jar, pressing the ends onto the jar edge to hold them in place. Brush with some of the juices and sprinkle liberally with coarse sugar.
Place the jars on a baking sheet and bake for 20 minutes; reduce heat to 375º and bake an additional 20 minutes until top crusts are lightly golden and cooked through. Cool on a wire rack. Pies may be served while slightly warm or at room temperature.
 Would you make this easy dessert recipe?
Latest posts by RecipeChatter
(see all)