During the warm summer months, we are not lacking in fresh produce and amazing, plump fruit. No matter where you live, summer is about freshness, brightness, flavor. Peaches are one of the summer crops we look forward to most, with their sweet flavors, juices running down your chin with every bite.
Eating a peach straight from the tree is a gift. We've got some helpful tips to make enjoying your peaches even better, starting with how to choose the ripest one!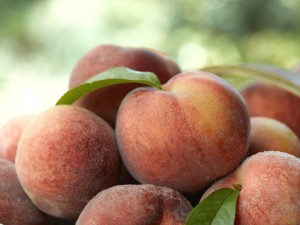 Choosing The Ripest Peaches
Pick local – When possible, try to get local peaches. They don't travel as far so they'll be riper, fresher and brighter in flavor.
Check the color – Peaches have a distinctly sweet smell, but that isn't always a true sign of freshness. Their color is a tell-tale sign of just how fresh they are. Try choosing one that is vibrant and bright. Avoid any that have green.
Squeeze those babies – Be gentle but give your peaches a little squeeze. If they feel firm, pass them by – they aren't ready yet. Peaches are juicy and sweet when they are ripe, they should have a little give to them.
How To Peel A Peach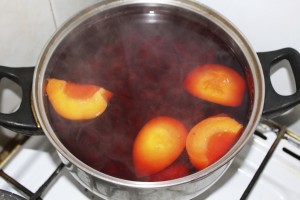 Biting into a fresh, ripe, super juicy peach is one of the true joys in life. Sometimes, however, it's also great to enjoy a crisp, a cobbler, even a cocktail filled with beautiful, jewel-toned peach slices. For easy peeling, follow these instructions:
Bring a pot of water to a boil.
Place your peach in the pot and cook it until the skins start to split, only 10 or 20 seconds.
Plunge the peach into a bowl of ice water.
Use your fingertips or a knife to pinch the skins and easily peel them away.
Storage
Maybe you don't eat all of your peaches in one day. If that's the case, you'll want to store them properly to get the most use out of them. Store them at room temperature in a single layer to avoid any bruising. If they start to ripen too much, you can get an extra few days by placing them in the fridge. If your peaches start to wrinkle, however, they may be a lost cause since wrinkling means they are drying out.
What are your tips for cooking with peaches?
Latest posts by Kim Cooper
(see all)