If there's one thing that is universally agreed upon, it's that the combination of peanut butter and chocolate is simply heavenly. Put those two ingredients together and you're guaranteed a delicious outcome. The great thing about peanut butter and chocolate is that they can work well in almost any type of dessert. Whether it's cookies, cakes, bars, bites, cups, or pies – peanut butter and chocolate reign supreme.
Here we've gathered up the best peanut butter and chocolate recipes we could find. Now, you can enjoy the perfect dessert combination any time you want, and in whatever form you like! But if you're feeling lazy, and just want to throw a few chocolate chips into your jar of peanut butter….well, we won't tell 😉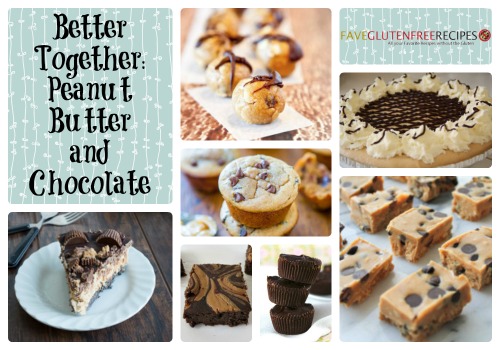 Better Together Recipes
The thing about peanut butter and chocolate is that it's almost too good to resist! Peanut butter and chocolate desserts can be especially dangerous. Take comfort in the fact that all of these recipes are gluten free, and veer towards the healthy side of the dessert spectrum. So if you grab an extra brownie, or indulge in one more piece of cake, it's not the end of the world.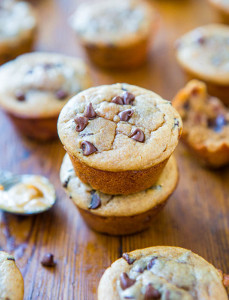 These Flourless Peanut Butter Chocolate Chip Mini Muffins are a good mix of healthy and sweet. These bite-sized little treats are perfect for snacking on at any time of the day. Make a batch of these at the beginning of the week and treat yourself to these little pieces of heaven all week long.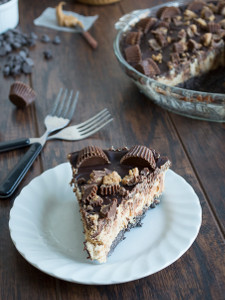 This dessert is for the true peanut butter lover in the family. Peanut Butter Cup Chocolate Pie takes pie, peanut butter cups, and chocolate and combines them into a mouthwatering masterpiece. This pie is perfect for a special occasion, like a birthday or a holiday. Bring out this amazing dessert and your guests will be awed by your baking brilliance!
And for more delightfully sweet recipes, be sure to check out these peanut butter and chocolate winners:
Peanut Butter Chocolate Crispy Cups
Peanut Butter Chocolate Chip Cookie Dough Bites
Black-Bottom Peanut Butter Mousse Pie
Peanut Butter Chocolate Chip Freezer Fudge
Peanut Butter Chocolate Drop Cookies
Chocolate Brownies with Peanut Butter Swirl
More Peanut Butter and Chocolate
But that's not all! These lovely and talented bloggers have their own masterful peanut butter and chocolate creations that we simply just had to share:
Fudge Filled Peanut Butter Sugar Cookie Cups by Mary Frances from The Sweet-Tooth Life
Frozen Chocolate Covered Peanut Butter Banana Bites by Amy from Amy Kay's Kitchen
Peanut Butter and Chocolate Popsicles by Cheryl from 40 aprons
What's Your Favorite Peanut Butter and Chocolate Combination?
Latest posts by FaveGlutenFreeRecipes
(see all)