Whenever the calendar turns from October to November, I start to crave pecan pie. I jumped on the pecan pie bandwagon late in life, but once I tasted my first bite of gooey pecan pie, I was hooked. No matter how much I have eaten on Thanksgiving, I will never turn down a piece of pecan pie topped with a generous dollop of whipped cream.
If you love traditional pecan pie but also like to try new things, you will love these amazing twists on classic pecan pie. Below, you will find everything from pecan pie bars to cake to fudge and more.

---
 For more amazing pecan desserts, check out The Best 15 Pecan Dessert Recipes for Fall from our friends at TheBestDessertRecipes!
---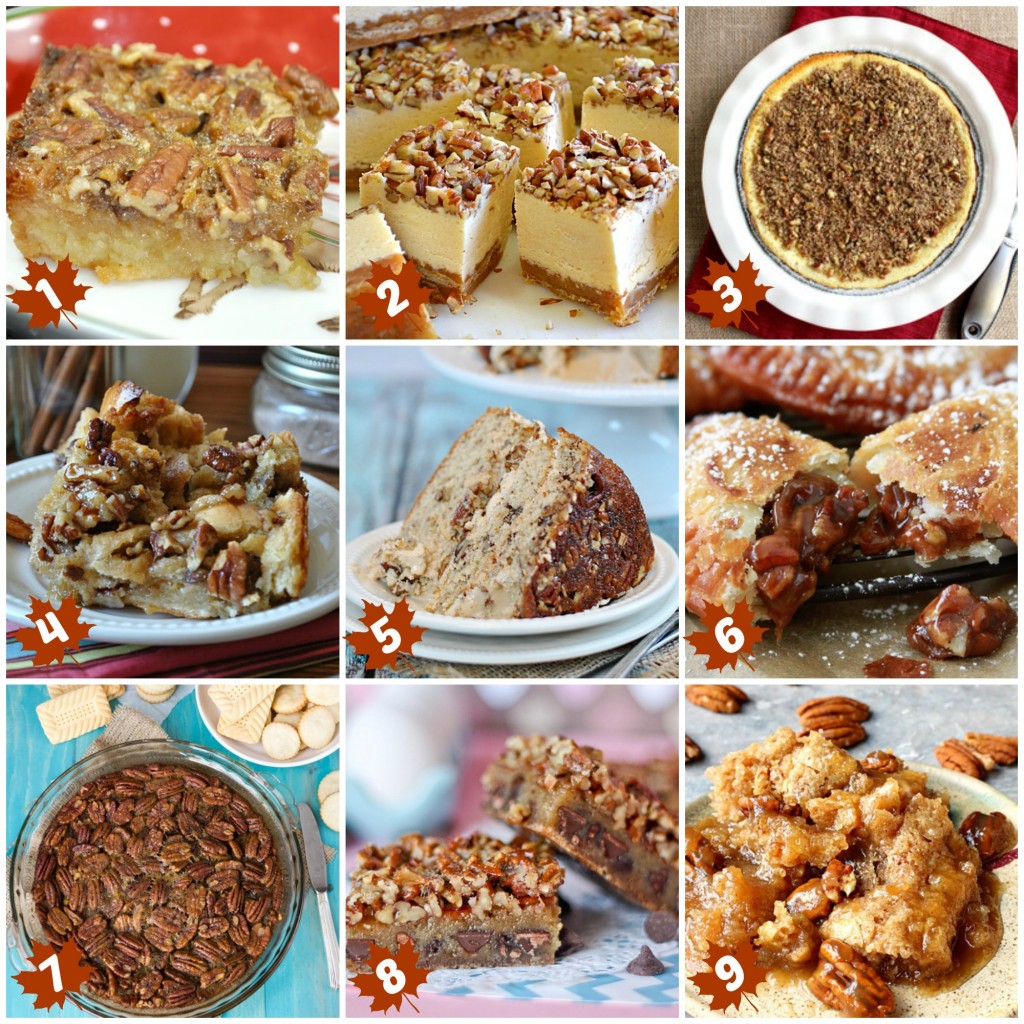 9 Twists on Classic Pecan Pie
1. Darn Good Pecan Pie Bars – This recipe is so good that it was our readers' favorite recipe of October!
2. Pecan Pie Cheesecake Fudge – For a delicious twist on both fudge and pecan pie, try Pecan Pie Cheesecake Fudge. This tasty treat is a great thing to make for family and friends around the holidays.
3. Five Layer Pecan Pie – It doesn't get much more impressive than this layered pecan pie recipe.
4. Unbelievable Pecan Pie Bread Pudding – Pecan pie would be the most indulgent recipe around if it weren't for bread pudding. Now you can enjoy both of these decadent desserts at the same time!
5. Pecan Pie Cake – Have your cake and eat it, too, with this recipe for Pecan Pie Cake!
6. Deep Fried Pecan Pies – Why have regular-old pecan pie when you can have a deep fried version? These pecan hand pies from Stacey at Southern Bite are definitely worth the extra effort.
7. Pecan Pie Dip – This twist on traditional pecan pie is perfect for parties! Serve this sweet dip with pie crust cookies for dipping.
8. Addicting Chocolate Chip Cookie Pecan Pie Bars – Once take you take a bite of these bars, you will be hooked! There is nothing like the sweet combination of a chocolate chip cookie and pecan pie.
9. Pecan Cobbler Dump Cake – Pecan pie and dump cake collide in this impossibly easy dessert recipe.
What is your favorite pecan dessert?
Latest posts by FaveSouthernRecipes
(see all)